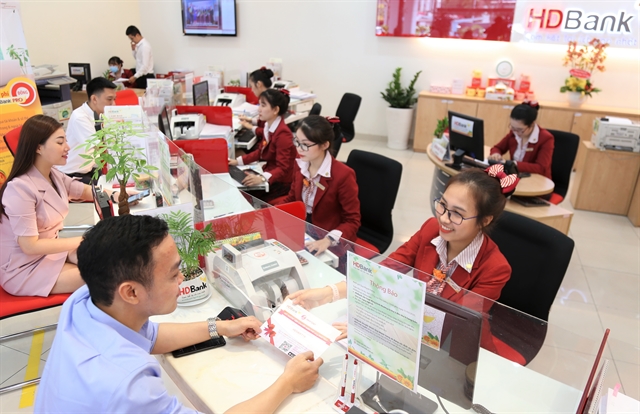 HCM CITY — Ho Chi Minh City Development Joint Stock Commercial Bank (HDBank) has announced November 30 will be the record date for paying final dividend for 2019 in the form of shares, which will increase its charter capital to VNĐ16.088 trillion (US$693.7 million).
It just completed payment of its first dividend for 2019 in shares and bonus shares to increase its charter capital from VNĐ9.81 trillion ($423 million) to over VNĐ12.707 trillion ($547.9 million).
It was recorded in the business registration certificate issued by the HCM City Department of Planning and Investment on November 2, 2020.
It issued 289.8 million shares for the first dividend and bonus out of a total of 627.8 million shares approved by its shareholders to increase its capital in 2020.
They were issued at a total rate of 30 per cent.
The final dividend will be paid at a rate of 26.92 per cent, equivalent to 35 per cent on the shares owned at the time of the annual general meeting (AGM).
Thus, after the two dividend payments and bonus issue, HDBank shareholders would have got a total rate of 65 per cent in 2020.
On the stock market, HDBank has a history of paying high and regular dividends.
Recently it issued convertible bonds to a foreign strategic partner, further increasing its capital adequacy ratio (according to Basel II standards) from a healthy 10.9 per cent.
Asset quality continued to be good with the lowest individual NPL ratio in the industry.
Amid the world banking industry's tribulations due to the impact of the Covid-19 pandemic, HDBank is rated B1 by Moody's, reflecting its good financial capacity, low financial risks and long-term development potential.
These are signs that the bank will successfully complete the 2020 plan approved at the AGM. VNS