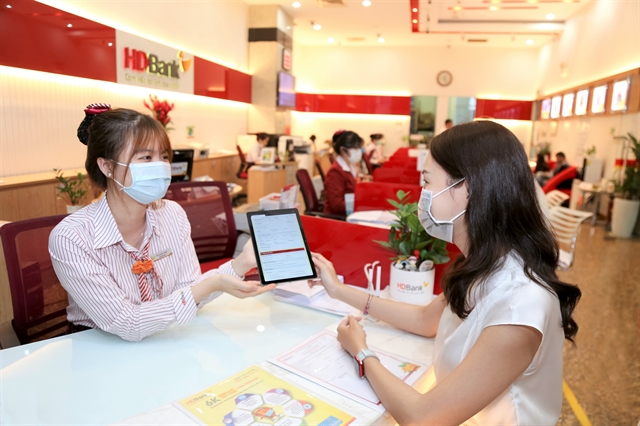 HCM CITY — The COVID-19 pandemic has hit all industries, including banking. But this is also an opportunity for banks to accelerate digital transformation to adapt to new situations, survive and even grow rapidly.
In fact, over the past year, thanks to accelerating digitisation, credit institutions have managed to remain stable, ensuring smooth and safe transactions and achieving big profits.
Việt Nam has advantages in terms of markets, resources and policies to take cashless payment and digital banking to new levels.
Those banks that took the initiative to embrace technology and digital transformation increasingly offer optimal utilities, services and technologies.
As one of the pioneering banks in digitisation, HDBank has for many years invested heavily in technology infrastructure and payment platforms besides preparing two other important factors: people and processes.
HDBank set up a digital transformation centre (DTC) in 2020, marking a major step in its digital transformation efforts.
At the same time the bank's IT and e-banking division enhanced recruitment of personnel with strong capabilities in core technologies such as artificial intelligence, big data and blockchain besides teamwork and foreign language skills.
Members of the core team at HDBank's digital transformation projects are required to have these qualifications, especially amid the unpredictable spread of the pandemic, but also the post-pandemic period, when HDBank began implementing remote working. It has achieved excellent results.
Thanks to that, HDBank has managed to speed up comprehensive digitisation through key projects such as digitising the customer journey at the counter; digitising the online customer journey with pioneering technologies such as eKYC, advanced eKYC and integrated authentication via video call; digitising the internal communication system; big data collection; process automation by applying RPA (robotic process automation) technology; virtual assistant switchboard (voice bot); and the Neo Bank mobile app.
Bringing new customer experiences
In May this year HDBank successfully digitised the account opening process at the counter through the tablet application. It completely eliminates the inadequacies that caused difficulties and took a long time for both customers and bank tellers.
The application of the latest technologies such as OCR (automatic data extraction) from existing documents and biometric technology helps identify and authenticate users quickly and reliably, reducing the average time needed for the entire process of opening an account, including opening an account and registering for related services such as SMS banking, e-banking, debit cards, checkable deposits, and savings account, from more than 20 minutes to five minutes on average.
According to the bank's statistics, after three months of digitising the account opening process at the counter through the tablet application, the number of customers registers for e-banking services rising to 65 per cent from the earlier 45 per cent.
Based on its digitisation roadmap, in June this year HDBank enhanced digital transformation using RPA technology. It has completed phase 1 by automating important operational processes like handling requests from customers and maintaining timekeeping for employees through a robot assistant.
HDBank plans to deploy 50 robots this year and complete its plan to automate 500 banking processes by 2023.
The robot assistants have helped HDBank reduce manual tasks by more than 80 per cent, increasing processing speed by 30 times (from three minutes to only five seconds needed for a transaction) with an error rate of almost zero.
HDBank's digital applications and automation of products and services have helped improve the efficiency of transactions and meet customers' needs amid the social distancing. As a result, in the first six months of the year the number of e-banking transactions doubled from the same period last year, and the transaction value tripled to nearly VNĐ60 trillion (US$2.6 billion).
It is expected that in 2023 – 25 HDBank will further expand the scale to increase the number of digital users and digital penetration and the rate of digital transactions to 90 per cent, and successfully accomplish its goal of becoming a Happy Digital Bank. — VNS