HÀ NỘI — Vinamilk has continued to expand its foothold in global markets despite pandemic challenges, which helped maintain stable growth this year.
The COVID-19 crisis has spread for nearly two years with trouble related to production and supply chains, creating barriers for exporters. However, the challenges posed by the pandemic are a test for companies' health, durability and resilience in this difficult time.
As Việt Nam's largest dairy company, Vinamilk's positive export results amid the crisis are a strong demonstration of its boldness and prestige in global markets.
In 2020, export activity brought in nearly VNĐ5.6 trillion (US$243.5 million) for Vinamilk, up 7 per cent over the previous year. Ending June, the company continued to record double-digit export growth, fetching VNĐ2.77 trillion.
Earlier this year, the shipment of 10 containers of premium nut milk and condensed milk to China showed optimistic signals about the company's international business segment. It also landed a high-end product line – pure and fresh milk containing refined bird's nests – on store shelves in Singapore, one of the most hard-to-please markets in Southeast Asia.
The second quarter witnessed hundreds of containers of milk products go abroad, bringing Vinamilk's most popular products such as condensed milk, nut milk and probiotic yoghurt to many countries. By the end of July, during the peak time of social distancing measures in Việt Nam, Vinamilk completed the export for its joint venture in the Philippines – Del Monte Vinamilk Dairy Philippines Inc – marking a new step in its business expansion in this potential market.
Further and faster by prestige and acuity
In August, Vinamilk was certified a prestigious exporter in 2020 by the Ministry of Industry and Trade's "Prestigious Exporters 2020" programme, recording its contributions to Việt Nam's overall export achievements. This is also the 5th year Vinamilk has appeared on this list.
Earlier, Vinamilk won the Asian Export Award for condensed milk products.
It can be said that the two factors behind Vinamilk's business success in 25 years of conquering international markets are prestige and its acuity in seizing business opportunities. This was further heightened amid the pandemic difficulties.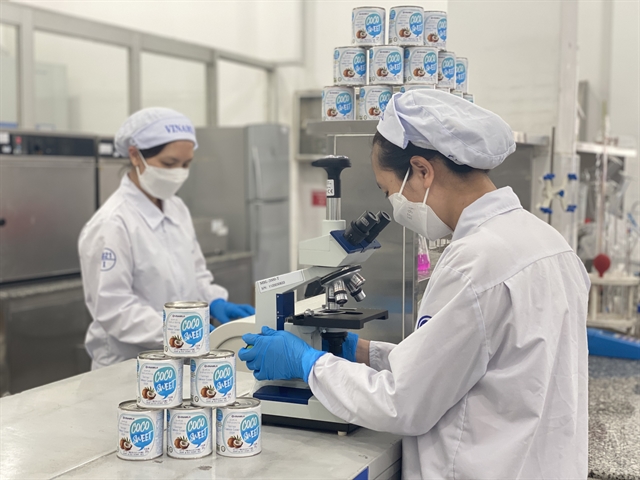 It has spent years researching the market and consumption habits to improve the nutritional quality in each product, maintaining the trust of partners and customers.
In addition to staple products such as condensed milk, baby milk powder and nutritional powder, Vinamilk has accelerated R&D efforts to create innovative products enriched with local tastes. In the Middle East and Africa regions, Vinamilk tailored nutritional powder products with date flavour – the fruit loved by local people.
Recently, the company successfully researched a condensed coconut milk product line which is aimed at exporting to Japan to meet strict standards and growing demand for milk of plant origin, vegetarian and people allergic to cow's milk.
These products are highly appreciated by partners and experts for their nutritional standards and application efficiency.
"Vinamilk has impressed us not only with its precise and flexible service quality but also its delicious taste, meeting Japanese standards. The new condensed coconut milk is very prominent, promising great potential when introduced," said Jun Hamada, a business partner in Japan.
Meanwhile, its resilience and ability to turn "danger" into "opportunity" has helped Vinamilk grow rapidly in this hard time. The company took advantage of opportunities in foreign markets where supply chains were disrupted to introduce and sell products.
In addition, it has also accompanied partners and shared difficulties during the crisis. As a result, Vinamilk's export and new orders have continuously increased in areas affected by the COVID-19.
"During nearly two years of suffering the COVID-19 pandemic, Vinamilk has shared difficulties and supported us in the transition to e-commerce. The business situation has improved very positively. In 2021, we imported many new products from Vinamilk and are well received by consumers," said Ivan Tan, a business partner in Singapore.
From the starting point of a dairy importer, Vinamilk not only leads in the domestic market but also brings it products to 56 countries and territories with accumulated export turnover of more than $2.5 billion. Reputation of Vietnamese milk in general and Vinamilk's brand in particular are continuously affirmed and in global markets. — VNS