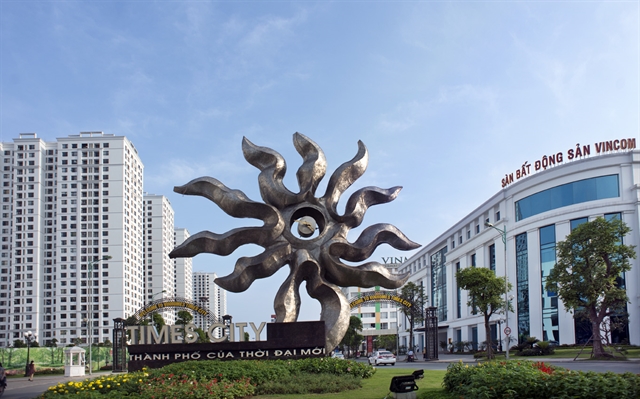 HÀ NỘI - Việt Nam's stock market closed the week on a negative note with the benchmark losing more than 45 points. Foreign investors returned to net sell in the market.
The VN-Index on the Hồ Chí Minh Stock Exchange (HoSE) declined by 45.42 points, or 3.3 per cent, to close yesterday at 1,329.43 points. This marked the index's largest single-day losses since July 19.
The index bounced back in the last trading minutes in the previous session, boosted by some large-cap stocks.
The market's breadth was negative as 302 stocks plummeted, while just 75 rose and 31 ended flat. However, the liquidity surged to over VNĐ38.4 trillion (US$1.68 billion), equivalent to a trading volume of 1.2 billion shares.
Strong selling force reappeared in all sectors, denting the market's appeal and investors' sentiment.
The 30 biggest stocks tracker VN30-Index also posted a sharp fall of 54.56 points, or 3.63 per cent, to 1,450.45 points. Of which, all 30 stocks in the VN30 basket plunged yesterday, but no stocks hit the maximum daily losses of 7 per cent.
Of the top five stocks influencing the market's trend, Vingroup (VIC) recorded the biggest losses yesterday, down 6.06 per cent to VNĐ97,700 per share.
It was followed by Vietcombank (VCB) with a drop of 2.63 per cent, Vinhomes (VHM), down 2.61 per cent, Việt Nam Rubber Group (GVR), down 6.31 per cent, and Techcombank (TCB), down 4.72 per cent.
Many other pillar stocks posting big declines of more than 2 per cent included VPBank (VPB), Vietinbank (CTB), Sacombank (STB), Hoà Phát Group (HPG), Masan Group (MSN), Vinamilk (VNM), Saigon Beer - Alcohol - Beverage Corporation (SAB), Mobile World Investment Corporation (MWG), and PetroVietnam Gas (PVGas, GAS).
However, the market still witnessed some positive signs with Viglacera Corporation (VGC) hitting the market biggest daily gain of 7 per cent to VNĐ35,050 per share.
Fertiliser stocks also posted good performance like Petrovietnam Fertilizer & Chemicals Corporation (DPM) up 3.58 per cent, or Petro Viet Nam Ca Mau Fertilizer (DCM), up 1.07 per cent.
The HNX-Index on the Hà Nội Stock Exchange (HNX) also edged 2.31 per cent down to close the last trading day of the week at 338.06 points.
During the session, over 280.7 million shares were traded on the northern market, worth VNĐ7.06 trillion.
Meanwhile, foreign investors were net sellers on HoSE after selling a value of VNĐ755.09 billion. They, however, net bought a value of VNĐ64.37 billion on HNX. VNS