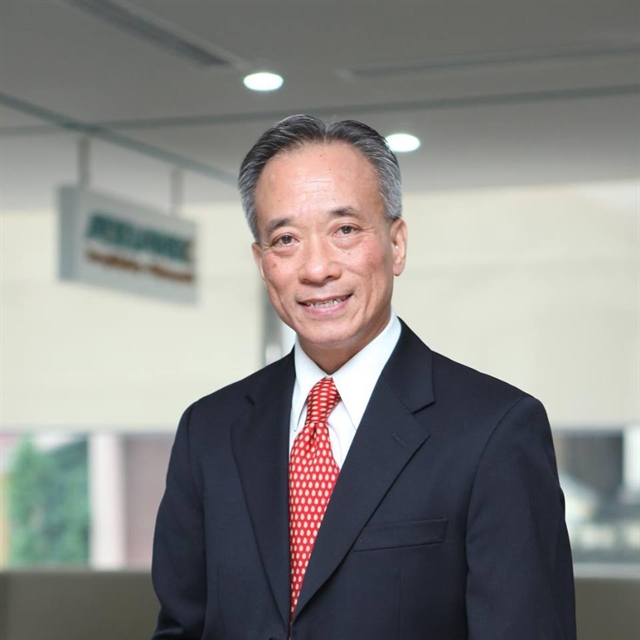 Talking to Kinh tế & Đô thị (Economics & Urban Affairs) Newspaper, economist Nguyễn Trí Hiếu said in the immediate future, there must be a timely solution to support businesses to ensure the "dual goal" of fighting the pandemic and maintaining production and business. In the long term, it is necessary to develop a new strategy for supporting industries, as well as diversifying import and export markets to avoid risks from all fluctuations in the world.
Many provinces and cities have been implementing social distancing according to Directive 16 of the Prime Minister. To implement the directive, businesses face many difficulties, such as a shortage of production supplies (input materials). How do you assess this situation?
The fourth wave of COVID-19 is affecting all industries and activities. As for the economy, there is a major problem that has not been resolved. Currently, many ports, such as Cát Lái Port (Hồ Chí Minh City) are being overloaded with containers due to broken supply chains. This is a big problem that, if not solved soon, will become a national problem. Because it is not only the distribution of goods from the port of departure, but it also affects the import and export, which is based on storing goods at seaports. If seaports cannot import goods and cannot export goods, import and export will inevitably be severely affected.
For businesses, the implementation of Directive 16 means they have to apply the three-on-site model (working, eating, resting at the factory/workplace). But this is a big problem for most businesses, especially enterprises in industrial zones in HCM City and southern provinces. Many enterprises had to stop operating because they could not meet the requirements and bear the cost of implementing the model.
So what do you think is the solution to solve the current situation?
Due to the specific nature of operations at seaports in general, I think that the Prime Minister can assign the Ministry of Health to assume the prime responsibility and coordinate with localities with seaports to consider the plan when there are cases of COVID-19 infections. These localities can isolate those infected, and still allow ports to operate in order to ensure the dual goals set by the Government.
In particular, the Ministry of Industry and Trade should request the Saigon Newport Corporation to consider reducing the price of storing containers and storing yards for goods at Cát Lái port for enterprises that have to suspend production due to the impact of the pandemic.
In addition, the Government can assign provinces and centrally-run cities that have seaports to prioritise vaccination for people working at ports, including delivery staff and drivers.
So what are the practical solutions to support small and medium enterprises at this time?
It is necessary to establish a credit complex that should include all banks, not just a directive calling on banks to support businesses. In fact, before implementing the Government's Directive, many banks had plans to provide loans for businesses, but banks also had to ensure their interests (safety loans, loans to credible customers). If banks do so, the flow of credit capital into the economy will be very limited, especially because the economy is affected by the current pandemic and businesses' health is weakened.
It is necessary to set up a credit complex with all banks participating, and the credit limit must be at least VNĐ300 trillion (US$13 million). This contribution is equivalent to 3 per cent of the total outstanding balance of each bank. At the same time, that complex has regulations on what kind of businesses, with what criteria, can apply for loans with a term of 2-5 years, revolving loans with interest rates of 3-5 per cent.
What is the basis for guaranteeing benefits when banks participate in this credit complex?
Currently, the key issue for small and medium-sized enterprises is that they cannot take out a mortgage loan, but have to take out an unsecured loan because the business is exhausted and has no collateral assets. But if you give unsecured loans, it will cause risks for banks, so I think the Government needs to build a National Credit Guarantee Fund with a charter capital of about VNĐ30 trillion ($1.3 million) and is allowed to guarantee up to 10 times the business' charter capital.
That means the bank can guarantee the total loan balance of VNĐ300 trillion with the Credit Complex.
We now have a local credit guarantee fund according to Decree 34 of the Government. However, according to this decree, it has a charter capital of only around VNĐ100 billion and is not allowed to guarantee up to three times its charter capital, meaning VNĐ300 billion. Therefore, only with a credit complex, can small and medium enterprises receive support.
The pandemic is still complicated, unpredictable and may last for a long time. What advice do you have for Vietnamese businesses?
Up to this point, from an economic point of view, I don't know when we will be able to control the pandemic. From now until the end of the year, is only four months. If the pandemic situation persists, it will be very dangerous for the economy.
I think that at this time, businesses should work together. If one enterprise cannot survive, then associate with five other enterprises to remove difficulties for each other, if five enterprises are not enough, associate with 10, even 100, in order to take advantage of this enterprise to support other enterprises and vice versa. Next, small and medium-sized enterprises associations, banking associations, policy researchers need to jointly come up with initiatives, mobilise resources from finance to win the pandemic.
At this time, supporting industries are suffering the most from the disruption of input material supply. How do businesses need to change to fit the current context?
Among all of Việt Nam's exports, there are up to 80 per cent of industries using input materials imported from abroad, only about 20 per cent are domestic materials. Therefore, supporting industry enterprises are heavily dependent on a number of markets, especially China. Over-dependence on the Chinese market when the country is also facing supply chain difficulties, is a huge risk for Việt Nam's supporting industries. I think that, in the face of the current situation, we need a new strategy related to supporting industries.
From the pandemic, we have learned a great lesson, which is to diversify the import market. Currently, we have a great opportunity from participating in free trade agreements such as CPTPP, EVFTA, RCEP... to expand the import market. Only by doing so can we avoid being dependent and focusing too much on one market. VNS