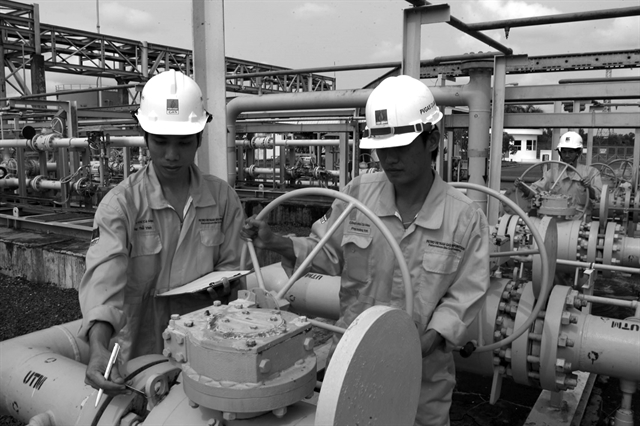 HÀ NỘI – Shares bounced back on Tuesday after Monday's slump, driven by good news about the coronavirus vaccine as well as stock prices falling to an attractive threshold that attracted investors.
The news that Pfizer Inc and Moderna Inc on Monday reported their COVID-19 vaccines were effective drove up stock markets around the world.
In Việt Nam, the VN-Index on the Hồ Chí Minh Stock Exchange climbed 1.9 per cent to close the session at 968.9 points. The southern market's index lost 1.6 per cent on Monday.
The green spread across the board with all 19 sectors increasing. The number of gainers outnumbered the losers by 320-103 while another 95 closed flat.
Large caps retained growing momentum when 29 out of 30 largest shares by market value and liquidity increased, of which 22 rose by more than 1 per cent.
PV Gas (GAS) was the biggest driver, up 4.1 per cent. Other big gainers included Vingroup (VIC), up 3.9 per cent; Hoàng Huy Investment Financial Services (TCH), up 3.6 per cent; VPBank (VPB), up 3.5 per cent; steelmaker Hòa Phát Group (HPG), up 3.4 per cent; and Saigon Securities Inc (SSI), up 3.1 per cent.
Liquidity of blue chips was also good. Techcombank topped the top 30 largest shares in terms of trading volume with 17.5 million shares exchanged, followed by HPG of Hòa Phát Group with 16.22 million shares traded.
Overall, the market liquidity decreased, however.
More than 400 million shares worth VNĐ7.9 trillion (US$340.5 million) were traded on HCM City's market, down 22 per cent in both volume and value compared to Monday's levels.
"Liquidity declined but the amplitude of fluctuations widened and market breadth was positive, reflecting the excitement of investors in today's session," analysts at BIDV Securities Co (BSC) wrote in a daily report.
The stock market is becoming more attractive with investors expecting an economic recovery thanks to the positive results from the COVID-19 vaccine, BSC's analysts said.
On the Hà Nội Stock Exchange, the HNX-Index jumped 2.25 per cent to end Tuesday's session at 146.58 points.
More than 72 million shares worth VNĐ1.3 trillion ($56 million) were exchanged here.
According to Bảo Việt Securities Co, the positive movement of the global stock market will continue supporting the market's uptrend. Investors are also eyeing more in the last quarter and 2020 business results of listed companies.
Foreign traders continued selling out on Tuesday. There were net sellers on both exchanges, responsible for total net value of more than VNĐ125 billion. — VNS