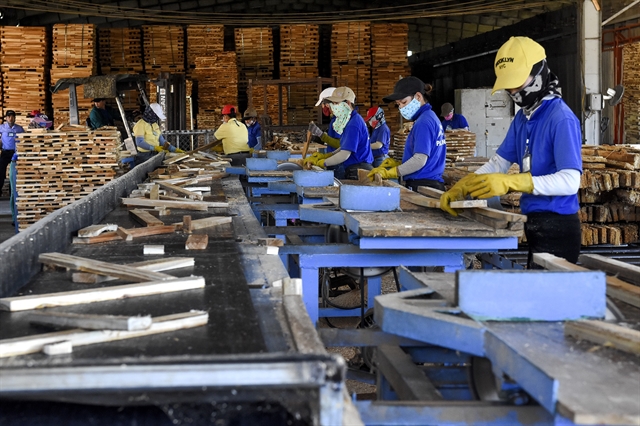 HCM CITY — Prolonged COVID-19 prevention measures have forced many factories in southern Việt Nam to shut down, raising concerns over supply chain disruption among businesses, especially foreign direct-invested (FDI) companies.
Experts said at an online conference last Friday that FDI enterprises in HCM City were facing challenges implementing the "3 on-site" model, which requires eating, sleeping; and working on site.
Most FDI firms said the model was not as effective as expected, despite being successful in the northern industrial hubs such as Bắc Giang and Bắc Ninh provinces, which experienced a COVID outbreak in June.
They noted that the number of COVID-19 cases had risen rapidly throughout industrial zones and enterprises in the south.
Võ Văn Hoan, vice chairman of the People's Committee, said the pandemic had seriously affected people's life and businesses' activities, including FDI enterprises. Tens of thousands of FDI businesses have shut down or stopped operation, resulting in hundreds of thousands of workers losing their jobs.
"Without comprehensive measures to support FDI firms, the supply chain of production, circulation and export of goods will be disrupted."
Trần Tiến Phát, general director of Datalogic Vietnam Company, said his business has 831 employees but as of August 20 only 502 people were working under the "3 on-site" model.
"The company's sales fell from US$18.5 million in June to $11 million in July. Only 60 per cent of employees are still working. Sales have decreased by 40 per cent."
Most of the absent workers are highly skilled workers, which has affected the production line. Experienced people are often married and cannot leave their elderly parents or children to enter the factory to work under the "3 on-site" model, he said. The model can also affect employees' mental health because they have to live away from their families.
Hồ Thị Thu Uyên, director of external affairs for Intel Vietnam and Malaysia, said the cost for the "two locations, one route" model for Intel had amounted to VNĐ140 billion, affecting the company's revenues and long-term production plan.
Lê Hữu Bình, a representative of the Jabil Vietnam Company factory in Saigon Hi-Tech Park, said the company was incurring a VNĐ4 billion loss on average per day. Many partners have cancelled orders and shifted to other markets such as Mexico or India, causing the company to lose $200 million so far.
The "two locations, one route" model, which started in mid-July, requires companies to transport workers from the production site to a concentrated place of residence such as a hotel or dormitory for employees. Companies are also required to conduct COVID-19 testing every seven days at their own expense.
Furusawa Yasuyuki, general director of AEON Vietnam, one of Việt Nam's largest retail groups, said it was facing a shortage of human resources and that a number of its employees were under centralised quarantine. "We also face difficulties in goods delivery across districts."
Regarding vaccinations, representatives of FDI enterprises urged the city to continue to give priority to workers in industrial parks, high-tech parks and export processing zones.
New group to support FDI firms
Nguyễn Thành Phong, chairman of the People's Committee (who has been recently assigned as Deputy Head of the Party Central Committee's Economic Commission), said the city had set up a working group to support businesses affected by the pandemic.
In the first seven months of the year, more than 21,000 businesses in the city were dissolved or stopped operation, Phong said.
The city plans to vaccinate all workers in industrial parks and export processing zones, which includes 286,000 workers and 3,000 experts, and 47,000 workers in a high-tech zone.
The city has vaccinated about 85 per cent of workers in enterprises and export processing zones. It plans to give second doses to those workers, and the first dose to the remaining 15 per cent.
Phong noted that tax reductions were beyond the city's authority, so the city would compile recommendations from the businesses to report to the Government.
Việt Nam was among a few Asian economies that could attract new FDI last year despite the pandemic. However, the country has been facing its most serious COVID-19 outbreak since the pandemic emerged last year.
The country's largest hotspot, HCM City, has been hit the hardest. It started strict social-distancing measures on July 9, including rules on worker transport and housing, and deployment of staff on factory floors.
The city's GRDP this year is likely to be negative instead of positive as it was in 2020. A number of indicators constituting GRDP will also be difficult to achieve. Industry, commerce, services and agriculture have been strongly affected, according to the General Statistics Office.
HCM City received $1.34 billion worth of FDI in the first five months of the year, a 16.52 per cent decline year-on-year. — VNS