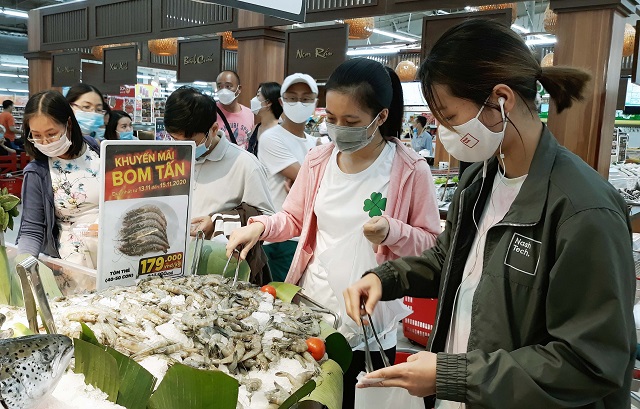 HÀ NỘI — Product quality is the focus of this month's Hà Nội promotion month to encourage consumption amid the COVID-19 pandemic with discounts of up to 70 per cent.
Deputy Director of the municipal Department of Industry and Trade Trần Thị Phương Lan said all products in the promotion programme must be registered with the management agency together with discount rates to be made public for consumers to make price comparisons.
The market watch was also enhanced to ensure the quality of products on sale.
Together with promotion programmes on traditional distribution channels, sales on online channels have been increased together with promoting the use of cashless payment.
In the first half of November, the promotion programme attracted the participation of about 3,000 enterprises, 50 per cent higher than the target.
Lan said the programme was expected to promote consumption in the year-end months amid the pandemic and increase the revenue of participant firms as well as the capital city's total retail sale revenue.
The total retail sale revenue of Hà Nội was expected to reach 10.5 per cent this year, Lan said.
The capital city saw a growth of 9.7 per cent in retail sale revenue in January-October.
Phạm Hoàng Hạnh, director of Media Mart Supermarket on Pham Văn Đồng Street, Hà Nội, said the supermarket launched discounts from 30 per cent to 50 per cent for electronic products.
All Media Mart's products on sale were new, of clear origin and have a genuine warranty, Hạnh said.
Marketing director of Pico Nguyễn Quang Đức said Pico worked with suppliers to launch promotions for electronic products and home appliances from 25-50 per cent. Additional discounts of 5 or 10 ten per cent would be given to customers who pay via the VNPAY or BIDV banking apps, respectively.
Lê Mạnh Phong Hà Nội, regional director of Central Group which owns the BigC supermarket chain, said the number of shoppers going to BigC in promotion days was up by 20-30 per cent compared to normal.
This was the 11th year Hà Nội has implemented the promotion month. — VNS