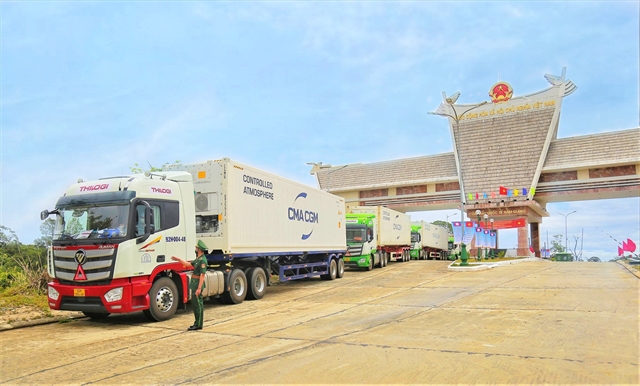 by Anh Phạm
HÀ NỘI — Strong economic recovery, which is expected post-pandemic, and rapid growth of e-commerce will likely result in a significant surge in road freight for Việt Nam and other ASEAN economies, said logistics experts.
According to a report by the Deutsche Post DHL Group, e-commerce in the region has been forecast to grow at a rate of 5.5 per cent. As a result, the regional road freight market is expected to witness a compound annual growth rate of greater than 8 per cent during the forecast period of 2020-25.
Rising shipping cost
Road freight is significantly cheaper and generates less emission than air freight while offering increased security and faster lead times than ocean freight. Road solutions are also highly flexible with trucks able to manage door-to-door local, cross-border, long-haul and short-haul deliveries, according to logistics experts.
This is especially true for countries that traditionally relied on ocean transport such as Việt Nam. Since the beginning of the pandemic, the country has reported a huge surge in prices.
In the latest report by the Vietnam Maritime Administration (VMA), the emerging ASEAN economy has recorded at least three separate price hikes since the end of 2020. Costs have risen across the board for most routes to the US and the EU from US$1,000-$5,000 pre-pandemic to $7,000-$8,000. Costs for special shipments can reach as high as $10,000 for a container.
The rising costs of ocean transport have put Vietnamese exporters in a no-win situation. They have had to either renegotiate contracts with buyers, which is often a costly and time-consuming process or continue to bleed with every shipment delivered. To make matter worse, experts have predicted the increased prices are here to stay, at least for a foreseeable future, until shipping companies manage to strengthen their fleets with new vessels.
All of this has made road transport a promising alternative or at the very least, a temporary remedy for exporters.
Road to prosperity
"Road freight is now playing a more significant role in international long-haul solutions across Asia as it offers a cost-effective and sustainable option. As we have seen in the last year with volatile air and ocean freight rates during the COVID-19 pandemic, road or multimodal solutions have offered more stable pricing, capacity, and easier border access in Southeast Asia," said Thomas Tieber, CEO, DHL Global Forwarding Southeast Asia.
Meanwhile, pan-ASEAN trucking has never been made easier. The ASEAN Customs Transit System (ACTS), introduced in 2020, has since allowed goods to be moved seamlessly across multiple ASEAN borders with a single guarantee that covers duties and taxes for the entire journey.
"With the easing of trade restrictions and implementation of new regulatory initiatives in the region such as the ASEAN Customs Transit System and Regional Comprehensive Economic Partnership, trade cooperation will continue to strengthen and bolster intra-Asia trade. This augurs well for ASEAN countries as they gear up to bounce back strongly from the COVID-19 pandemic," said Kelvin Leung, CEO, DHL Global Forwarding Asia Pacific.
For instance, the Greater Mekong Sub-region (GMS) Cross-Border Transport Facilitation Agreement (CBTA) allows each of the six-member countries - Cambodia, China, Laos, Myanmar, Thailand, and Việt Nam - to issue up to 500 GMS Road Transport Permits and Temporary Admission Documents (TADs) for goods and passenger vehicles registered, owned and/or operated in that country.
The ASEAN-China Free Trade Area has increased trade between Southeast Asia and China since coming into force in 2010, and the 15-member Regional Comprehensive Economic Partnership (RCEP) is expected to improve market access and facilitate investments across the bloc that represents about a third of the global GDP.
Việt Nam in particular has made leaps and bounds in the development of road infrastructure in the last two decades. As per World Bank rankings in 2018, the country has seen a significant improvement in its Logistics Performance Index (LPI). It ranked 39 out of the 160 countries, rising 25 places since 2016. Data from the Ministry of Industry and Trade showed that its logistics sector grew by over 12 per cent in 2018.
Over three-fourths of freight tonnage in Việt Nam was transported by road, growing 5 per cent on average annually between 2010 and 2018. This figure will likely continue to rise as the country double down on its effort to become the regional leading manufacturing hub. As an export-driven economy, Việt Nam requires a large import of raw materials while the finished goods will be exported, a process in which logistics is to play a vital part.
There is still room for improvement. Việt Nam's logistics cost, according to a World Bank paper, has been consistently 6 to 12 per cent higher than that of Thailand, China, and Malaysia.
Vietnamese government's scheme to rebuild and modernise the country's logistics infrastructure in the last decade has significantly reduced logistics costs, from 25 per cent of GDP to 15 per cent. However, there is still room for improvement. The country's logistics cost, according to a World Bank paper, was still consistently 6 to 12 per cent higher than that of Thailand, China, and Malaysia.
According to the Ministry of Transport, the country's road transport system stretches over 570,000 kilometres, including over 24,000 kilometres of national routes, over 1,000 kilometres of highway and nearly 27,000 kilometres of urban roads.
Việt Nam has made the upgrade of road transport infrastructure a key part of the country's socio-economic development strategy. Last year, the National Assembly has passed a resolution to build up to 4,000 kilometres of highways to connect all major provinces and towns across the country as well as the ASEAN's road system by 2030. — VNS