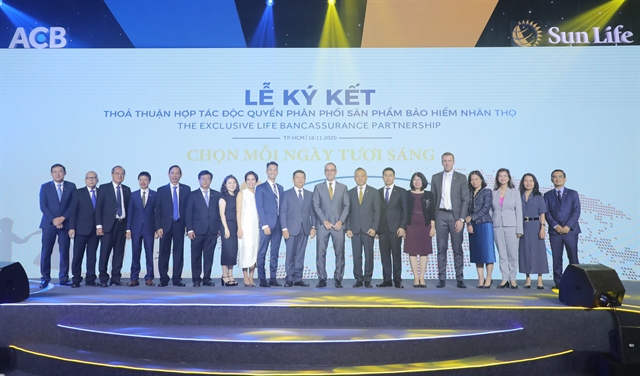 HCM CITY — Sun Life Vietnam Insurance Company Ltd (Sun Life Vietnam) and Asia Commercial Joint Stock Bank (ACB) on Wednesday in HCM City inked a five-year exclusive bancassurance partnership in Việt Nam.
The partnership between Sun Life and ACB is part of the former's long-term strategy to grow its distribution capacity, supported by bancassurance.
Starting from January 1, 2021, the partnership combines ACB's extensive distribution network of 371 branches in 48 provinces with Sun Life Vietnam's competitive and comprehensive life insurance solutions and client care.
The partnership will give ACB's fast-growing base of 3.6 million clients access to a comprehensive range of innovative insurance solutions for clients at different life stages.
"We're thrilled to announce this partnership to help millions clients in Việt Nam achieve lifetime financial security and live healthier lives with Sun Life," said Léo Grépin, President, Sun Life Asia.
Sharing about the co-operation, Larry Madge, CEO, Sun Life Vietnam added: "ACB is a leader in the Vietnamese banking sector and shares our focus on delivering exceptional client experience, leveraging digital and analytics, and providing innovative solutions. We look forward to working with ACB to secure a brighter future for their clients in Việt Nam."
Đỗ Minh Toàn, CEO and president, ACB, said: "Sun Life, with its strong legacy in insurance business globally and strong commitment to Việt Nam, and ACB, with our execution excellence, will together build a leading bancassurance business in Việt Nam."
The Việt Nam market offers significant growth potential for insurance, due to low penetration rates and an emerging middle class.
As a result, the bancassurance business has been growing extremely quickly over the last several years and now contributes close to 30 per cent of total life insurance sales.
Sun Life Vietnam is a life insurance company that is 100 per cent wholly owned by Sun Life.
Sun Life Vietnam has a nationwide network of 62 branches and customer care centres and supports over 100,000 clients, offering life, health and wealth management solutions.
Sun Life is a leading international financial services organisation providing insurance, wealth and asset management solutions to individual and corporate clients. Sun Life has operations in a number of markets worldwide, including Canada, the US, the UK, Ireland, Hong Kong, the Philippines, Japan, Indonesia, India, China, Australia, Singapore, Việt Nam, Malaysia and Bermuda. — VNS