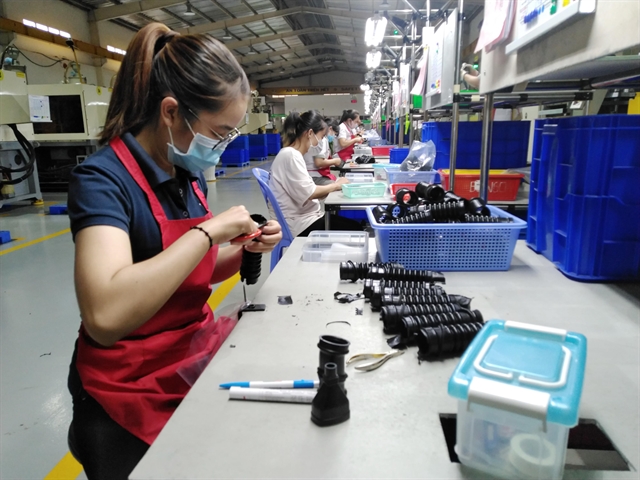 HÀ NỘI – The urgent need to enhance competitiveness in global value chains means minimising reliance on imports, according to industry insiders.
Việt Nam's supporting industries remain dependent on imported part supplies, which was evident when the COVID-19 pandemic caused disruptions to local production due to a shortage of imported raw materials.
Trương Thị Chí Bình, vice president and general secretary at the Việt Nam Association for Supporting Industries (VASI), said that the pandemic has disrupted global part-supply chains for the manufacturing industry. Although production was maintained during the pandemic, nearly 50 per cent of the association's member enterprises saw drops in revenue.
She said enterprises have experienced four virus outbreaks, pushing them into many difficulties with severe shortages of components and materials for production. Việt Nam's part-supply enterprises now remain weak in terms of management capacity, compared to regional countries including Thailand, Malaysia and India.
Experts from the Industry Agency under the Ministry of Industry and Trade said in a short period of time, heavy reliance on imported sources has not only affected the local manufacturing industry but in the long-run it also has influenced the country's economic development.
More than ever, self-sufficiency in the supply of components is key to developing Việt Nam's industries in a sustainable way.
Experts also noted that inconsistent regulations and policies were also behind poor production performance in localities.
The characteristic of the part-supply industry is the linkages between localities without discrimination in terms of administrative boundaries. Currently, provinces and cities have applied different regulations and policies on social distancing, causing difficulties for businesses in the circulation of goods and services.
Lê Quốc Phương, former expert of the Ministry of Industry and Trade, said that strong development of supporting industries would help Việt Nam gradually shift from a sourcing economy to a high-level manufacturing industry. This issue has received attention, but failed to achieve the expected results.
Key solutions
Solutions have been developed by the Ministry of Industry and Trade's Industry Agency. The agency will build consistent regulations and policies and carry out them in an effective way for the development of domestic part-supply and manufacturing industries.
Part-supply and manufacturing enterprises will be provided with low interest rates for short-term loans from credit institutions.
Experts of the Industry Agency said the establishment and development of domestic value chains would attract foreign investment and enhance links between FDI and domestic enterprises. This would help support the development of the part-supply industries.
The solutions also aim to build concentrated zones of part-supply industries so as to create links between industrial clusters. It also focuses on developing raw material industries to ensure a self-sufficient supply for domestic production while minimising imported sources and further promoting the competitiveness of Vietnamese companies and products in global value chains.
According to Bình, in the long-run, a law supporting industries is important to attract investment and promote the development of these industries. – VNS