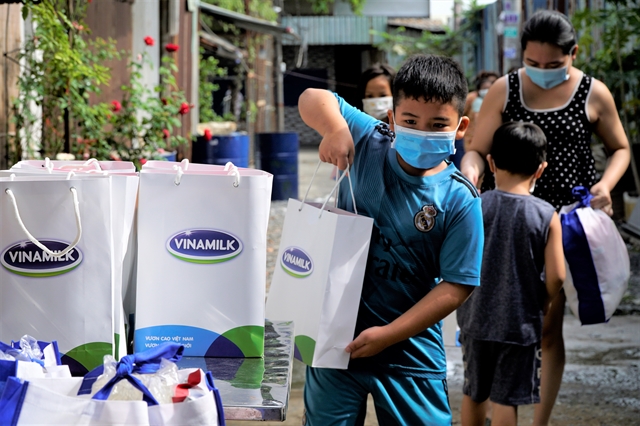 HÀ NỘI – Vinamilk has given 45,000 gifts to people in three provinces and cities hardest hit by the pandemic – HCM City, Bình Dương and Đồng Nai – where COVID-19 has severely impacted incomes and livelihoods.
This is an activity in the programme "Sharing the burden of the pandemic season" initiated by the company on the occasion of its 45th anniversary with the desire to share difficulties with consumers and give the "gift of health" to the community.
Since the start of the pandemic, Vinamilk has been implementing many programmes to support the frontline workers, people in need and care for children. The programme "Sharing the burden of the pandemic season" is aimed at providing nutritional support for people and labourers during this period.
The pandemic together with social distancing measures has left many people with no jobs and no income, forcing them to tighten their purse strings, even on essential foods. In HCM City, Bình Dương and Đồng Nai, most of the people in dire need of support are workers and unskilled labourers who lost their jobs or saw their income reduced, or students in difficult circumstances, large families and elderly people.
Vinamilk's 45,000 gifts awarded to people in these three southern provinces and cities are practical support that will partly lessen their burdens.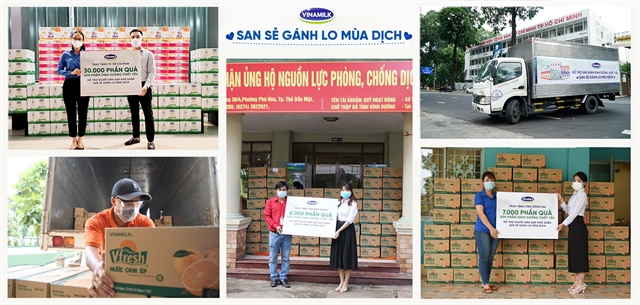 "With the spirit of 'No one left behind', the HCM City's Youth Union and other organisations have tried their best to take care of people in difficult circumstances. We greatly appreciate the companionship of businesses, including Vinamilk, who have supported and joined forces to take care of the vulnerable and difficult cases affected by the COVID-19 pandemic," said Trần Thu Hà, Deputy Secretary of the HCM City's Youth Union.
Hà said the union and Vinamilk will coordinate with other grassroots forces in the districts to quickly deliver these gifts to the people.
Besides gifts, the programme also subsidises costs with nutrition products for consumers nationwide with an estimated budget of up to VNĐ170 billion (US$7.4 million). Vinamilk's representative said instead of celebrating events, the company has decided to launch a support programme for shoppers, stemming from the desire to "give the gift of health to the community" with its own products.
"In August, Vinamilk celebrates its 45th anniversary in a 'special context' when the whole country joins hands to fight against COVID-19. Therefore, Vinamilk is determined to implement a gift-giving programme to subsidise and share difficulties with people across the country. Hopefully, this activity will bring practical support to and show the company's gratitude to millions of consumers who have supported the company," said Nguyễn Quang Thái, Director of Community Activities Development of Vinamilk.
Since the outbreak of the pandemic in 2020, Vinamilk has always been active in community activities, taking care of children, supporting the frontline workers and joining hands with the Government to fight the disease with a total budget of more than VNĐ85 billion. In 2021, the company has given more than 2.5 million nutrition products to support people to improve their health. – VNS