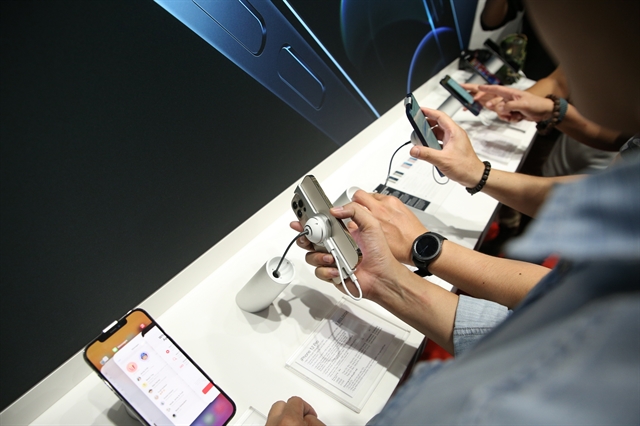 HÀ NỘI — The State will manage competition in the markets of fixed broadband services and terrestrial mobile communication services.
The Ministry of Information and Communications compiling the draft said the two services were direct communication needs of society and important for domestic and socio-economic development. Accordingly, they need State management to promote competition and create a healthy competitive environment among businesses.
This is a supplement to the list of important telecommunications service markets that the State needs to manage competition under the draft amending and supplementing Government Decree No. 25/2011/NĐ-CP, detailing and guiding the implementation of a number of articles of the Law on Telecommunications.
The ministry is consulting the public regarding the draft.
It said that there had been problems implementing Decree 25 in many fields in the past, such as competition management in telecommunications services, communications business licensing, charge management, sales, telecommunications services, and management of telecommunications numbers.
Therefore, it is necessary to amend and supplement this decree to ensure maintenance of a healthy competitive environment, efficient use of telecom resources and administrative reform, it said.
According to the draft, the ministry has proposed to amend and supplement a number of regulations relating to telecommunications business licenses to improve transparency in business licensing procedures and facilitate business activities.
The draft also proposes removing the classification of fixed terrestrial telecommunications networks according to frequency bands and number of subscribers to fit telecom development trends and simplify licensing conditions.
It will require conditions on the level of legal capital and the level of investment commitment when establishing a fixed terrestrial telecommunications network.
The draft has supplementary regulations on the management of wholesale service prices to promote competition in the market, in accordance with the Law on Prices.
The State continues to manage retail prices of telecommunications services through price declaration and post-inspection management.
In addition, the draft also proposed regulations on the list of wholesale services that need to be managed, and measures on controlling competition in wholesale service markets.
Enterprises dominating the domestic market have an obligation to provide wholesale services to other telecommunications businesses to reduce barriers to market entry and promote competition in the retail service market. — VNS