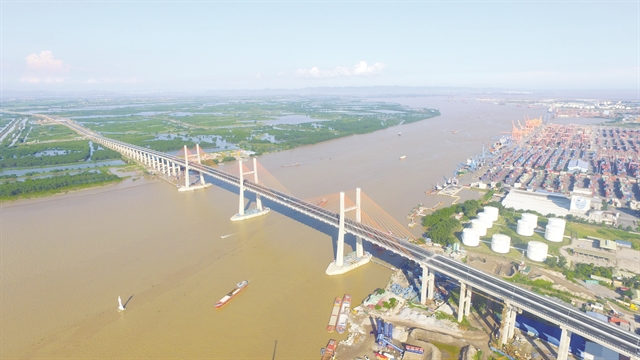 HÀ NỘI — Việt Nam's industrial zones property located near the sea is attracting great attention to investors as they maintain high occupancy rates and rental prices, heard attendants at a conference held in Hà Nội on Thursday.
According to CBRE, by the third quarter of 2020, the total land for the industrial development of five main industrial cities and provinces in the north includes Hà Nội, Bắc Ninh, Hưng Yên, Hải Dương and Hải Phòng accounted for 13,800ha in which 9,600ha of leasable industrial land. The average occupancy rate of the industrial park remained at a positive level of 79 per cent. Industrial zones (IZs) in Hà Nội, Hải Dương and Bắc Ninh have average occupancy rates of about 90 per cent. For the southern market, the total industrial land area is double that of the northern region, reaching about 38,000ha, of which 24,000ha of leasable industrial land including HCM City, Bình Dương, Long An, Đồng Nai, Bà Rịa – Vũng Tàu with an average occupancy rate of nearly 77 per cent. CBRE noted that the supply of industrial land ready to hand over in IZs in both regions was scarce.
Việt Nam's coastal regions are starting to receive as much investment as demand from both domestic firms expanding production and multinational corporations.
Consequently, the coastal provinces of Việt Nam have been taking advantage of the available potentials to develop the industries. Compared to other provinces in the northern region, Hải Phòng and Quảng Ninh have more supply allocated for industrial development.
Hải Phòng is one of the biggest industrial hubs in Việt Nam with significant projects such as DEEP C II and III and Vinhomes' new IZs. As of the third quarter of 2020, the city recorded an average occupancy of 56 per cent providing a recent launch of big industrial parks. Quảng Ninh recently emerges as an industrial coastal province. The province is expected to provide a large amount of industrial land bank in the future, with two economic zones (EZs) of Quảng Yên and Vân Đồn, of which Quảng Yên coastal EZ is oriented to become a growth engine promoting investment for Quảng Ninh. DEEP C, one of the major industrial park developers, is developing an industrial complex associated with a seaport in Quảng Yên EZ to exploit geographical advantages and utilize the navigation channel to Lach Huyen deep-sea port.
"To attract investors, Quảng Ninh prioritises the development of the processing and manufacturing industries. Secondary investors will have the highest corporate tax incentives in economic zones and - receive short-term vocational training costs for employees in the first 2 years from the date of issuance of investment certificate," said Vice Chairman of Quảng Ninh People's Committee Bùi Văn Khắng.
He said for industrial park infrastructure investors, the lowest rate of land rent in five years will be applied and will be supported 30 per cent in advance of compensation costs, site clearance, 30 per cent support investment level of the wastewater treatment system in IZs (maximum VNĐ30 billion) after completion of construction. Quảng Ninh Province is also focusing on infrastructure development such as urgently completing the Vân Đồn – Móng Cái Expressway: reducing the time to go to the Chinese border gate from 2 hours to 50 minutes, expected to be completed in 2021. Highways connecting Hà Nội, Hải Phòng, Quảng Ninh, and major seaports and international airports have all been put into operation.
Lê Trọng Hiếu, Director of Advisory and Transaction Services, Industrial and Office at CBRE said the COVID-19 pandemic and trade tensions have disrupted global supply chains, Việt Nam is one of the attractive destinations for investors of companies with production lines in China.
"However, this trend is being interrupted by the US Presidential election, the Biden administration is expected to have drastic changes in economic policy, such as reducing tensions with China and re-joining the CPTPP. According to discussions with a number of companies interested in moving to Việt Nam, investors are waiting to determine US policy under the new presidency to take appropriate steps," he said.
The growth of e-commerce and logistics companies since the start of COVID-19 has created a huge demand for storage space and distribution networks. Therefore, the need to find land to develop logistics facilities dominates the market. Since the end of 2018, the market has welcomed many foreign investors in logistics warehouse development such as BW Industrial, LogisValley, LOGOS, and GLP entering the market. Mapletree - one of the pioneering investors in building rental warehouses from Singapore - is also aggressively expanding its land bank. By 2021, the market is expected to receive about 800,000sq.m of warehouse supply for rent, mainly in the areas of Bắc Ninh, Hải Dương, Hải Phòng and Quảng Ninh.
Electronics and supporting industries/automobile manufacturing are considered key sectors in attracting investment. CBRE acknowledges the entry of many large tenants in the electronics sector, including smartphone makers in an industrial park in Bắc Ninh (100ha) and Universal Scientific Industrial at DEEP C Hải Phòng I industrial zone, Wistron in Hà Nam. Such as Thailand, Việt Nam is considered a bright spot in attracting automotive supporting industries.
"We received a large number of inquiries and deals for land purchase and factory lease contracts from the US, South Korea, Germany, and Japan from the electronic, automotive and their supporting industries," he added.
Sharing the ideas, Koen Soenens, General Sales and Marketing Director of DEEP C said they have reserved a large land bank to welcome the wave of investors as well as reliable utilities and services. The IZ developer has also provided ready-built workshops and warehouses to help investors quickly launch their businesses here.
"We targeted to become one of sustainable IZ developers in Việt Nam," he said, adding that they are aiming to minimise environmental footprint and being the first in the country to build recycled plastic road. — VNS