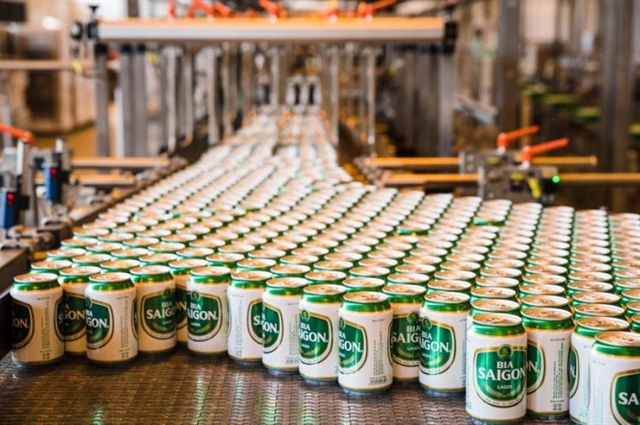 HCM CITY — Sài Gòn Beer-Alcohol-Beverage Corporation (Sabeco) will pay its first cash dividend for the 2020 financial year on December 18.
The dividend rate is set at 20 per cent, meaning shareholders will receive VNĐ2,000 (US$0.086) per share.
The total dividend rate Sabeco set for 2020 is 35 per cent. The list of beneficiary shareholders will be finalised on December 1.
With nearly 641.3 million shares, the value of the upcoming dividend is about VNĐ1.28 trillion (nearly $55 million).
The two biggest shareholders – the State Capital Investment Corporation (SCIC) and Vietnam Beverage Co Ltd – will receive VNĐ461 billion and VNĐ687 billion, respectively.
SCIC recently received Sabeco shares from the Ministry of Industry and Trade, now owning 36 per cent of the company.
Vietnam Beverage Co Ltd became the major shareholder at Sabeco in late 2017, possessing a 53.59 per cent stake.
Sabeco has been hit by a stricter policy to prevent drunk driving and the COVID-19 pandemic.
In the third quarter of the year, Sabeco posted a 17 per cent annual decline in net revenue, which fell to VNĐ8.05 trillion. But net profit was almost unchanged at VNĐ1.47 trillion.
In January-September, total revenue dropped 29 per cent year-on-year to more than VNĐ20 trillion and net profit was down a fifth year-on-year to VNĐ3.4 trillion.
Sabeco shares (HoSE: SAB) lost 1.7 per cent on Monday to VNĐ181,800 (nearly $7.80) apiece. — VNS