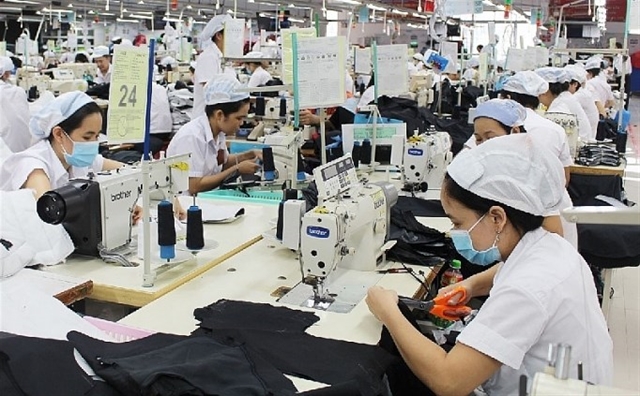 HCM CITY – Trade between Việt Nam and the US has seen impressive growth over the last 25 years, with more and more American businesses being interested in partnering with their Vietnamese counterparts and investing in the country.
Speaking at a forum on bilateral economic and trade relations on Wednesday, Deputy Minister of Industry and Trade Đỗ Thắng Hải said the US is now Việt Nam's largest export market while Việt Nam is the US's 12th largest commercial partner.
Their economies complement each other, he said, explaining that the US has huge demand for some of Việt Nam's key products like textile and garment, electronics and seafood, while Việt Nam needs to import machinery.
Their trade has therefore risen from US$450 million in 1995 to $75.7 billion last year, he said.
The US also ranks 11th in terms of foreign direct investment in Việt Nam, he said.
Due to the market instability caused by COVID-19, large US companies are paying closer attention to Việt Nam as an investment destination to set up sustainable supply chains, and so Việt Nam should focus on improving its investment climate, he said.
Businesses should also consider producing and exporting goods made with US materials and technologies back to that country, forming a closed supply chain that could be beneficial to both countries' businesses, he added.
Marie C. Damour, the US consul general in HCM City, said Việt Nam has high demand for energy, infrastructure and the digital economy, areas in which many US companies are strong.
Dustin Daugherty, head of Dezan Shira & Associates North America Business Development, said Việt Nam is the biggest winner in Southeast Asia of the US-China trade war due to the trade diverted away from China, with industries such as communication equipment and electrical machinery benefiting the most.
Referring to US President-elect Joe Biden's administration, he said: "With his new priorities such as seeking multilateralism and less emphasis on 'America First', I believe that relations with Việt Nam should continue to improve. The US will probably adopt less aggressive policies on trade."
To remain an attractive destination for investment, Việt Nam should focus on improving its workforce and developing technology and its legal framework and infrastructure, he added.
Trần Minh Thắng, head of the Việt Nam Trade Office in San Francisco, said considering people are working and studying from home in the US, Vietnamese exporters should look at products for which demand could rise due to a change in lifestyles (such as higher demand for frozen food), and comply with regulations related to product origin and intellectual property.
Hải said Việt Nam would continue with its efforts at administrative reform and global integration, and increase economic and investment co-operation with the US.
The forum was held by the Ministry of Industry and Trade, the HCM City People's Committee and Amcham Việt Nam. – VNS