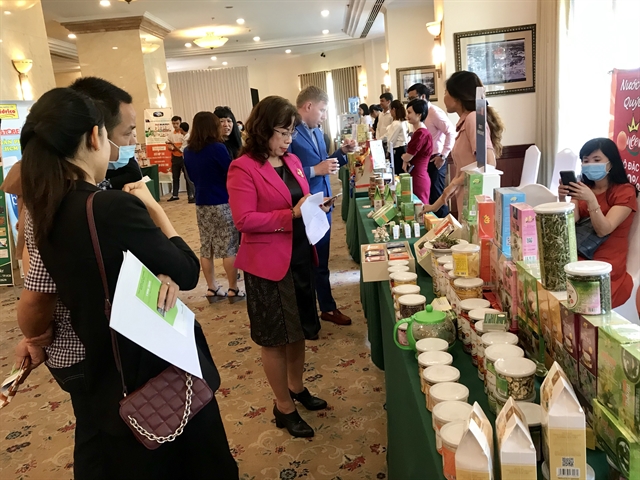 HCM CITY — Việt Nam needs to diversify global supply chains in order to achieve inclusive growth and attract investment after the pandemic ends, speakers said yesterday (Nov 18) at a meeting in HCM City yesterday.
Nguyễn Hữu Tín, director of the HCM City Investment and Trade Promotion Centre (ITPC), said Việt Nam was among a few countries in the world achieving positive growth in the first 10 months of the year.
Commodity exports in the period increased by 4.7 per cent over the same period last year, with a total US$229.27 billion. The country's trade surplus reached a record high ($18.72 billion) in the period.
The EVFTA, which took effect on August 1, and the Regional Comprehensive Economic Partnership (RCEP), which was signed on November 15, have opened up many opportunities for Việt Nam's economy to grow, he said.
With 13 free trade agreements (FTAs) and two FTAs under negotiation, Việt Nam is one of the most open economies in the world, creating a great opportunity to develop new supply chains, according to Tín.
However, the country's participation in global value chains remains limited, despite being one of the most open economies. The Vietnamese economy is 1.5 times and five times more open than Thailand and China, respectively.
The level of participation in global supply chains remains well below its ASEAN peers, such as Singapore, Thailand, Indonesia, Malaysia and the Philippines.
Experts said that Việt Nam should accelerate the application of automation and digital technology, and diversify supply chains to attract foreign investment.
The country needs high-quality human resources, good infrastructure, and new technologies to open up services, with service development being the driving force of the economy.
The country also needs to improve its productivity.
Prior to the pandemic, Việt Nam was already a proven FDI destination in ASEAN, with massive FDI inflows at 2 per cent of GDP more than Malaysia and Thailand, and global value chains accounting for 66 per cent of the country's total trade.
The country has increasingly improved its business environment to become an attractive destination for investors. However, the country's domestic content in products is still modest, they said.
According to the World Bank, a rise of 1 per cent in the participation in the global value chain will increase per capita income by more than 1 per cent.
It noted that developing countries have to face "strong headwinds" due to the impact of the pandemic. The World Bank Group's forecast shows that global GDP will decline by 5.2 per cent in 2020 (the deepest recession in eight decades).
Of the 14 global recessions in the past 150 years, this recession ranks fourth in terms of depth. Commodity trade could decline from 13 to 32 per cent in 2020. Per capita income this year is also expected to fall in 93 per cent of countries, the largest rate in a century and a half.
Reports from the World Trade Organisation show that global trade is slowing with an estimated decrease of 13-35 per cent in 2020. Meanwhile, the UN has estimated that FDI will decline 5-15 per cent worldwide this year.
Also speaking at the event, Lê Thanh Liêm, vice chairman of HCM City People's Committee, said the city's GRDP increased on average by 8.3 per cent per year in the 2015-19 period. The city's economy accounts for more than 22 per cent of the country's GDP.
The city's GRDP per capita rose by 1.26 times in 2019 compared to 2015, according to Liêm.
The city's exports have had an average growth of 9.73 per cent per year in recent years. Exports have improved towards processed products, with industrial goods accounting for more than 80 per cent of the city's total exports.
"The city has diversified its export markets, reducing dependence on any single market or partner," he said. VNS