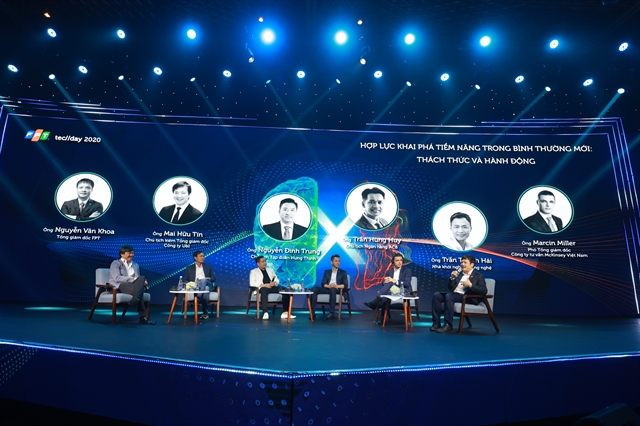 HCM CITY — With synchronous and solid investment in technology, businesses could quickly transform operations into a digital enterprise model to optimise productivity, reduce costs and time, attendees heard at FPT Techday 2020 in HCM City on Thursday.
Based on implementing digital transformation products and solutions for customers in Việt Nam and globally, FPT experts calculate that digital transformation could help businesses cut costs by up to 60 per cent and even save up to 90 per cent in time in some processes compared to pre-digitisation.
With the desire to bring breakthrough perspectives on trends and how technology could create a better world, FPT Techday has become an annual event attracting the attention of numerous businesses, organisations and technology-loving communities.
The event attracted more than 1,000 attendees who were leaders of large enterprises, consulting firms, technology experts and thousands of online viewers.
This is an annual technology event organised by FPT Corporation, bringing together new trends and technologies to help shape and create the future from leading domestic and foreign experts.
It also shares lessons, experiences and practical solutions to help businesses, organisations and countries quickly transform into the digital model of the future.
Nguyễn Văn Khoa, FPT director general, said that technology and digital transformation play an important role.
"We believe in the power of technology and always believe that technology can change the situation, bring new opportunities and create greater values," said Khoa.
Experts said that the collaboration between people and machines would explore breakthrough values ​​for Vietnamese businesses. This would also be a fundamental solution for promoting sustainable development in the booming context of the fourth industrial revolution.
The corporation also affirmed that its product ecosystem was suitable for all sizes and fields of business.
"We will continue to accompany and co-operate with the Vietnamese business community to help each business optimise its performance, and furthermore, gradually transform the operating model from traditional to digital, creating a breakthrough for businesses and boosting the country's digital economy," said an FPT representative. — VNS