3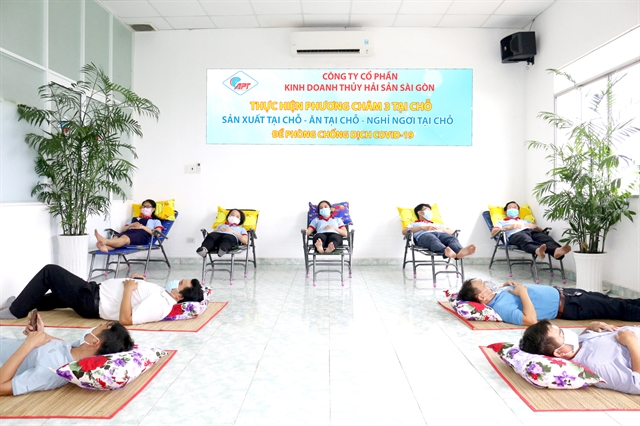 HCM CITY — Companies in industrial parks (IPs) and export processing zones (EPZs) in HCM City will continue to operate despite stricter COVID-19 prevention and control measures being applied for two weeks starting on Monday.
The HCM City Industrial Parks and Export Processing Zones Authority (HEPZA) has asked companies to continue the 'three on-site' model (work, eat, and rest at workplaces) or the 'one route, two destinations' model (workers travel between their accommodation and the factory, with no stops on the way, on a set route).
The move aims to avoid disruption of production and supply chains, and maintain income for workers during this difficult period.
Strict COVID-19 prevention and control measures are in effect from Monday until September 6 as the number of cases remains high.
The city is the country's COVID-19 epicentre with more than 180,000 cases as of the morning of August 24.
A quarter of the staff for each company at IPs and EPZs are allowed to work, and were required to be present at the workplace before midnight Monday.
The city People's Committee has asked the Department of Industry and Trade, HEPZA and the people's committees of 21 districts and Thủ Đức City to allow businesses to operate if they meet pandemic prevention and control requirements.
HEPZA told businesses that if they decide to suspend operation or reduce staff before August 23, they must ensure safe conditions for their workers to return to their residences.
Newly employed workers must have a negative COVID-19 test using the RT-PCR method, and stay in a temporary isolation area separate from on-site accommodation and production areas.
Employees continuing to work are not allowed to leave the workplace except for medical or other emergencies. Companies also must continue conducting tests for their workers every seven days at the workplace.
From August 23 to September 6, HEPZA will not deal with requests to change, add or reduce the number of workers at businesses or the new registration of businesses.
In addition, it will not accept any new registrations for having workers live in factories.
The city has 17 IPs and EPZs and a high-tech park with around 320,000 workers. More than 600 businesses in IPs and EPZs are operating in the city amid the pandemic. — VNS