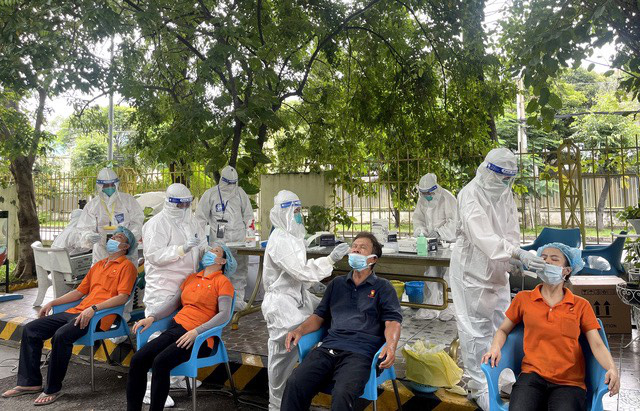 HCM CITY — The HCM City Department of Health has instructed businesses to themselves perform rapid COVID-19 tests for their workers once a week to ensure a safe working environment.
They need to send their scheduled testing plans to local health centres and authorities overseeing businesses' activities with the dates and the types and number of test kits required.
They have to procure their own medical equipment for testing and arrange staff for the purpose. Training for sampling and testing would be provided by local health centres or the city Centre for Disease Control.
They can also work with private hospitals for the tests.
They need to send the test results to health centres and relevant authorities for monitoring, and strictly follow the Ministry of Health's instructions if anyone tests positive.
The department has instructed the city's districts, the HCM City Export Processing and Industrial Zones Authority, Saigon Hi-tech Park, and other similar organisations to keep an eye on businesses' testing activities and results.
Businesses had sought permission to carry out rapid tests for staff by themselves and to vaccinate them to be more proactive in tackling the pandemic and ensuring safe working conditions.
HCM City has nearly 700 businesses and factories that have staff living either on-site or at nearby locations since mid-July based on the administration's mandate.
It has been training the public to perform rapid COVID tests at home to ease the burden on medical staff and identify suspected positive cases quicker.
The HCM City Export Processing Zone and Industrial Park Authority Business Association has called on the Government to have workers at industrial parks and processing zones and the Saigon Hi-tech Park vaccinated quickly.
It wants workers who received their first AstraZeneca vaccine more than eight weeks ago to be given their second jabs soon.
It also wants around 20 per cent of staff currently working on-site and who are yet to get their first shot to be vaccinated soon.
Nguyễn Văn Bé, chairman of the association, said vaccination would enable more workers to return to work soon and create a safer working environment.
Programme to help workers feel secure
A health-care programme for managers and employees at companies in HCM City's industrial parks, processing zones and hi-tech parks amid the COVID-19 pandemic was launched last week.
Dubbed 'Accompanying businesses to take care of employees' health,' it will be carried out by the HCM City Export Processing Zone and Industrial Park Authority Business Association (HBA), Vietnam E-commerce Association, HCM City Young Physicians Association and Digital Transformation Alliance for Small and Medium-sized Enterprises (DTS), IM Group, Aloha, iCitizen, and private hospitals and clinics.
"The programme offers practical and effective solutions and models," said Trần Thiên Long, vice president of HBA.
Its key targets include periodically testing employees, vaccinating employees, helping enterprises' medical teams test and handle infections, providing test kits at low prices, and providing medicines for COVID treatment.
It has a hotline at 1900633336 to advise on prevention and treatment and arrange a hospital to treat infected employees for free or at low cost.
Nguyễn Ngọc Quỳnh, CEO of DTS, said the programme has tied up with seven international hospitals and clinics for periodic testing, vaccination, providing health advice to employees, and helping train medical personnel at enterprises in testing.
They can register for support at https://www.suckhoenguoilaodong.com. — VNS