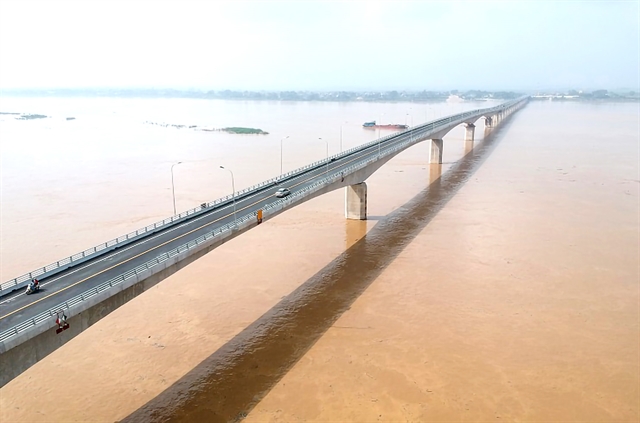 Ngọc Bích
"Since strict social distancing measures were applied nationwide, my company is on the verge of bankruptcy," Lê Minh Nghĩa, director of Phú Hà Liability, told Việt Nam News.
Phú Hà Liability invests in Build-Operate-Transfer (BOT) projects, which are a form of private-public partnership.
Nghĩa's company was the investor of the Văn Lang Bridge project which crosses the Red (Hồng) River, connecting the central city of Hà Nội's Ba Vì District and the northern province of Phú Thọ's Việt Trì City. The BOT project was completed and opened to traffic in October 2018 and started collecting fees in January 2019.
"The company's only source of income is from the collection of road service fees at the Văn Lang Bridge Toll Station," Nghĩa said, and the coronavirus pandemic had severely affected revenue.
The average monthly revenue of the company from May to July this year was approximately VNĐ2.062 billion (US$90,000), plunging by 29 per cent compared to the April figure before the fourth wave of the virus started to break out in the country, Nghĩa said.
The situation has been worse since July 24 when the city People's Committee's Directive 17 setting out stricter movement restrictions came into effect.
Moreover, following the direction of the Directorate for Roads of Việt Nam on the suspension of toll collection to support the fight against the pandemic, all vehicles passing through the Văn Lang Bridge Toll Station during social distancing have been free of charge.
Therefore, since July 25, the company had had no revenue, but it still had to ensure the payment of banking debt, both principal and interest, Nghĩa said.
The 9.46km Văn Lang Bridge had total investment of VNĐ1.460 trillion.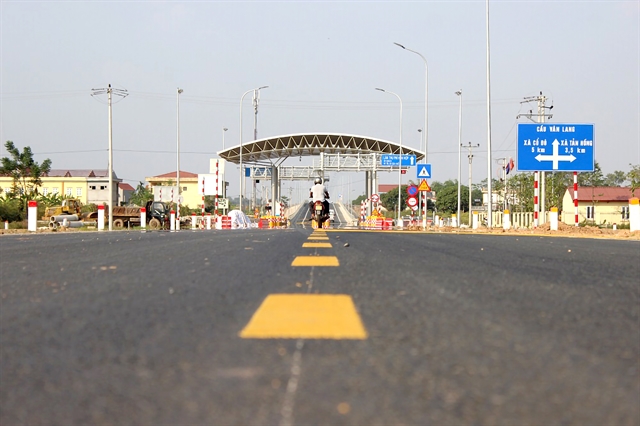 Long-term problems
BOT investors have not only faced hardship caused by the pandemic but are also struggling with obstacles stemming from the Ministry of Transport's regulations of road toll increases and the State Bank of Việt Nam's lending policies.
Nguyễn Trung Dũng, director of the BOT 36.71 Company, told Việt Nam News that in less than two years, State management agencies had changed regulations related to road use fees for BOT projects three times, causing 36.71 to lose tens of billions of Vietnamese đồng in revenue.
The disadvantage for BOT investors, according to Dũng whose company poured investment of VNĐ279.5 billion into the National Highway 19 construction, is that the companies have not been allowed to deliberately increase the road use fee even though this is a provision stated in the BOT contract signed with the State agency.
"Under the BOT contract, road use fees are adjusted every three years with the rate of increase not exceeding 9 per cent each time," Dũng said. "But the Circular No. 35/2016/TT-BGTVT sent by the Ministry of Transport stipulates the maximum tariff for road use services, leading to investors being unable to raise the fees as expected."
He said that the actual revenue at the National Highway 19 project was not enough to pay the principal and interest on bank loans. So far, the company has had to source VNĐ217 billion from Corporation 36 – its parent company – to compensate for the project's loss.
To build the National Highway 19 project, for which total investment amounted to VNĐ1.460 trillion, Dũng's company had to borrow nearly VNĐ1.2 trillion.
Burdened with 1,000 workers, the company director said he managed to support his employees with VNĐ1 million per month during the time they have been furloughed from work.
Hard-hit by COVID-19 this year, the company would probably suffer a revenue loss of 30-40 per cent, Dũng said.
Nghĩa from Phú Hà Liability said his company's biggest problem was that the actual volume of vehicles travelling on the bridge was much lower than expected, leading to toll revenue falling short of the original financial plan.
Since the company was allowed to start collecting road use fees in January 2019, its earnings have never exceeded 55 per cent of the plan. Now, due to the impact of the pandemic, the estimated revenue this year would likely reach only 30 per cent of the plan, Nghĩa said.
Currently, the company's revenue from toll collection was not enough to pay 35 per cent of its loan interest, he added. If the coronavirus outbreak was not contained and the businesses were not able to back to normal operation in the near future, his company would go into insolvency.
Dũng from 36.71 said if the investor was unable to pay the debt, it would likely be transferred from the 'less risky' group of debtors to the 'potential loss' group, as classified by commercial banks.
Those listed in the 'potential loss' group would not be offered preferential lending interest rates and would not be allowed to take part in bidding for new projects for five years, he said.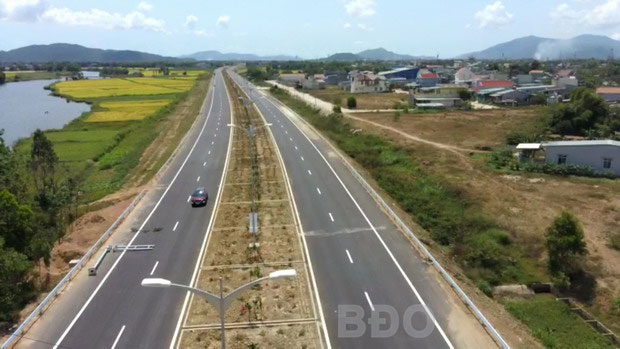 Solutions
Acknowledging its members' concerns, the Vietnam Association of Road Systems Investors (VARSI) has sent a document to the Vietnam Chamber of Commerce and Industry requesting the Government to support businesses building traffic works affected by the pandemic.
In the document, Trần Chung, chairman of VARSI, said that amid the pandemic, traffic construction enterprises had been in distress, as their projects risked failing to meet financial plans.
For traffic projects under construction, Chung said that as the pandemic had resulted in lockdown or restricted movements in many places nationwide, construction contractors were not able to send personnel, machinery, equipment and materials to construction sites, affecting progress.
Construction on some projects such as the Trung Lương - Mỹ Thuận highway, Cam Lâm - Vĩnh Hảo highway, and Nghi Sơn - Diễn Châu expressway had been suspended.
VARSI said that it was necessary to have guidance from ministries of Construction, Transport and Finance, and the central bank to apply force majeure clauses in BOT contracts and lending contracts signed by investors, State agencies and credit institutions.
In addition, VARSI proposed that the Government allows businesses building traffic works to defer payment of social insurance premiums for the last six months of the year, and at the same time have policies to support employees working in projects and toll stations having to temporarily stop operation.
Goods and building materials should be given priority to be transported to construction sites so that North-South expressway projects are not disrupted and will be completed on time, according to VARSI.
VARSI also proposed a reduction in corporate income tax, deferment of value added tax payment and stabilisation of raw construction materials prices.
Nghĩa said that deferment of VAT and social insurance payments would give BOT companies more funds to fulfill their debt obligations.
BOT investors needed not only a band-aid solution to deal with contemporary problems caused by the pandemic, but also long-term measures to tackle lingering obstacles, Dũng said.
It was urgent for commercial banks to amend regulations classifying debtors so that BOT investors can seek other sources of income to pay BOT project-incurred debts without changing their status quo, Dũng added.
Nghĩa has hope that the Ministry of Transport will amend the regulations of road tolls so that his company and other BOT investors will be able to solve earnings-related problems.
The road-use fee on Văn Lang Bridge was scheduled to be raised in January 2022 as stated in BOT contracts, the project's investor stressed, saying he was hopeful that the issue would be addressed. — VNS