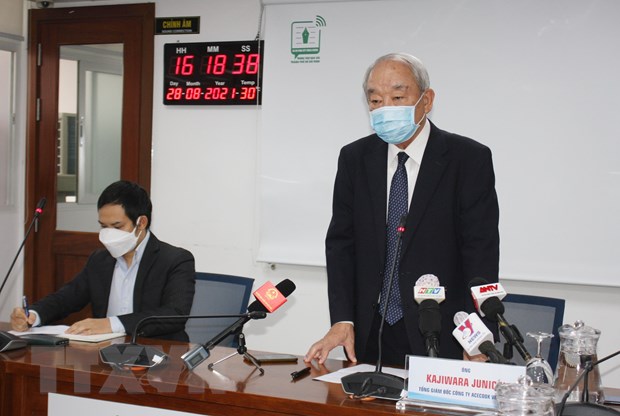 HÀ NỘI — Acecook's recalled noodle products in the EU are exclusive to the European market and are not domestic products, said Kajiwara Junichi, general director of Acecook Vietnam, at a meeting in HCM City late Saturday.
All available products in Việt Nam abide by Vietnamese regulations and are safe for consumers, he said.
The Food Safety Authority of Ireland (FSAI) on August 20 announced that batches of the Hảo Hảo and Good brand noodles produced by the Acecook Vietnam Company, were being recalled after they were found to contain ethylene oxide, a substance that cannot be used in foods sold in the European Union (EU).
The two products are Hảo Hảo Sour-Hot Shrimp Flavour Instant Noodle Dish (77g, expiration date September 24, 2022) and Good Spare Ribs Flavour Instant Noodle Dish (56g, expiration date November 10, 2022).
"Certain batches of instant noodle products are being recalled due to the presence of the unauthorised pesticide ethylene oxide. This pesticide is not authorised for use in food sold in the EU. Although the consumption of the contaminated product does not pose an acute risk to health, there may be health issues if there is continued consumption of ethylene oxide over a long period of time," the FSAI stated on its website.
"Therefore, exposure to this substance needs to be minimised. Point-of-sale recall notices will be displayed in stores supplied with the implicated batches."
Kajiwara Junichi said Acecook Vietnam had contacted its suppliers and they had asserted they do not use ethylene oxide during production, adding that the company does not allow the use of ethylene oxide in any production process.
Junichi said the substance was widely used to sterilise medical equipment and certain food products. It is accepted by certain countries like the US and Canada.
He said the company had implemented further investigation to ensure the products' quality and safety.
Việt Nam's Ministry of Industry and Trade said it was verifying the information, and had requested Acecook Vietnam to report on its production processes and procedures, explaining the difference between products consumed domestically and those exported.
All Acecook Vietnam products circulating in Việt Nam are also being reviewed, the ministry added.
In related news, The Vietnam SPS Office, Ministry of Agriculture and Rural Development, said it had received a warning from the EU stating that the product "Dried noodles with chicken - and beef-spices" produced by Thiên Hương Food Joint Stock Company in HCM City, exported to Norwegian market, also contain ethylene oxide.
After the SPS annoucement, the Ministry of Industry and Trade requested Thiên Hương Food Joint Stock Company to urgently report on its production process to assess the presence of ethylene oxide.
The ministry has request the Food Safety Management Board of HCM City to organise the inspection into Thiên Hương's product, take samples to test ethylene oxide in products of the company being circulated in the Vietnamese market, and review the entire list of products distributed by the company in the country.
In an interview with news site Zing on Sunday, Thiên Hương Food said that it had sent the product manufacturing process to the management agency as required, adding that it did not allow the use of ethylene oxide in any production process.
The company said that the recalled batch of "Dried noodles with chicken - and beef-spices" was tailor-made exclusively as a partner's order in Norway.
The company insists that all products are strictly processed, without using ethylene oxide in any stages. The production process now follows IFS, ISO 22000 and HACCP standards.
In addition to providing samples to the management agency, Thiên Hương was inspecting, screening and evaluating on a large scale all stages of raw materials, equipment, processing and manufacturing processes.
The company will also verify the information of processed products in the Norwegian market.
"Once we have the final results, we will quickly announce them," the company representative told Zing. — VNS