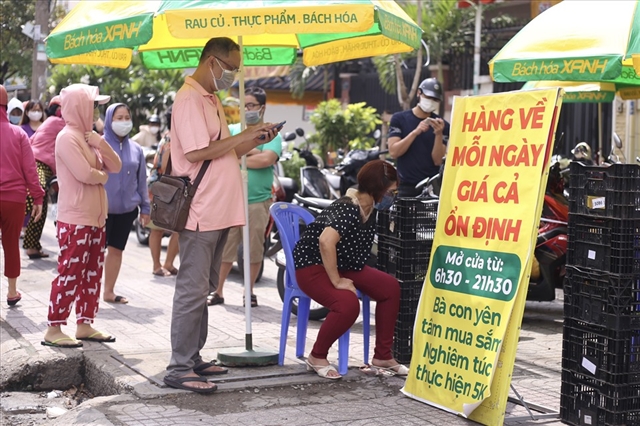 HÀ NỘI — Food and grocery retailers are doing particularly well during the pandemic, or at least they are on paper, according to recent reports from securities traders and financial analysts.
Domestic food and grocery retailers have been reporting strong numbers in July. Bách Hóa Xanh's financial statement for the month of July recorded over VNĐ4.2 trillion (US$184 million) in sales, a 55 per cent increase from June and a massive bump of 133 per cent from the same period last year. The food and grocery retailer also saw twice the amount of customers in their stores, pushing its sales to the top among Thế giới Di Động (MWG) businesses, MWG being its parent company. For the first time, it has managed to topple sales of mobile phones and electronics, MWG's traditionally best performers.
But all that glitters must not be gold if even MWG's executives have voiced their concerns over the group's financial performance for the year.
"Our business performance will likely hit a new low in August due to strict social distancing measures in major cities and towns across the country. Should the situation fail to improve during the remaining months of the year, the group may fail to meet its annual financial targets," a MWG representative told shareholders during a recent online conference.
The group said even a massive jump in sales of essential commodities, whose profit margin is often razor-thin, cannot make up for losses it suffered in other lucrative businesses. The sales bump was also unlikely to last as it was a result of the public's panic buying.
This has been a trend observed by retailers all over the world. In a global retail report, a group of KPMG analysts said while food and grocery retailers have enjoyed rapid growth in recent months, the rest of the retail industry has been doing miserably. During the pandemic, Vietnamese consumers have slashed spending on non-family and luxury. Spending focus has shifted to food and consumer goods as families trying to cope with social distancing measures.
The future looks grim.
"Unfortunately, the economy doesn't work as a compressed spring. There will be no strong bounce back in demand," said MWG President Nguyễn Đức Tài.
"Only when tourism and manufacturing can resume and workers go back to work will we see demand. There simply cannot be a bounce-back when consumers already spent all their savings," Tài said.
Demand will likely stay low for years to come, according to the CEO.
A report from the General Statistics Office of Vietnam showed a 8.3 per cent decrease in retail in July compared to the previous month and a 20 per cent decrease compared to the same period last year. This coincided with MWG's financial statement for July in which the group reported a 29 per cent drop in profit despite a 10 per cent increase in revenue.
The pandemic, however, will change the game for food retailers for good.
While traditional markets and mom-and-pop stores were still the dominant force in the country's retail sector with 90 per cent market share, modern minimarkets and supermarkets have been gaining ground fast, said a World Bank report in 2018. This is a movement that has been hastened during the pandemic when many traditional markets were forced to close down to prevent the spread of the virus.
"While traditional markets and mom-and-pop stores will not be entirely replaced any time soon, more consumers have switched to minimarkets and supermarkets in recent months. This could create a lasting impact on consumer behaviour," said a report by Viet Dragon Securities. — VNS