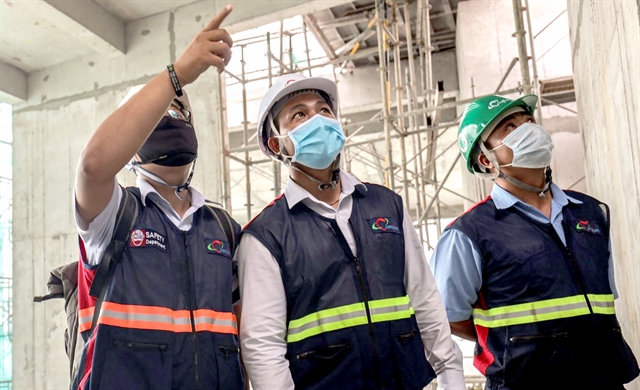 HÀ NỘI - Shares ended lower on Tuesday as profit-taking activities weighed on securities and real estate stocks.
The benchmark VN-Index on the Hồ Chí Minh Stock Exchange was down 0.01 per cent to close at 1,298.74 points.
The index had plunged 2.3 per cent to end Monday at 1,298.86 points.
More than 714 million shares were traded on the southern bourse, worth VNĐ23.4 trillion (US$1 billion).
Market breadth was negative with 145 gaining stocks and 228 losers.
The VN30-Index edged 0.44 per cent lower to 1,418.26 points. Of the VN30 basket, 22 stocks rose while six slid and two stayed unchanged.
"The market had a struggling session around 1,300 points. Market breadth remained negative with market liquidity declining compared to the previous session," said BIDV Securities Co.
"The struggle around the psychological threshold of 1,300 points may continue in the short term as cautious sentiment dominates trading activities in the market," it said.
Foreign investors net bought VNĐ132.39 billion on HOSE. They were net sellers on HNX with a value of VNĐ122.48 billion.
Towards the end of the session, the VN-Index's loss was significantly expanded as securities stocks declined strongly, such as Việt Dragon Securities Co (VDS), Hồ Chí Minh City Securities Corporation (HCM), Việt Nam Bank For Industry and Trade Securities JSC (CTS), VIX Securities Joint Stock Company (VIX) and Petrovietnam Securities Incorporated (PSI) losing 7 per cent.
Việt Capital Incorporation (VCI), FPT Securities Joint Stock Company (FTS) and Bảo Việt Securities (BVS) also declined sharply.
The real estate and construction sectors also traded quite negatively with many losers such as Development Investment Construction JSC (DIG), Hoà Bình Construction JSC (HBC), Hudland Real Estate Investment and Development JSC (HLD) and Coteccons Construction Joint Stock Company (CTD).
On the other side, petroleum stocks and steel stocks performed well and helped limit the fall of indices with gainers such as PetroVietnam gas JSC (GAS), PV Drilling (PVD), PV Coating (PVB), Bình Sơn Refinery (BSR), Hoà Phát Group (HPG), Nam Kim Group (NKG), Hoa Sen Group (HSG).
On the Hà Nội Stock Exchange, the HNX-Index lost 0.91 per cent to end Tuesday at 331.79 points.
The index had lost 0.95 per cent to close Monday at 334.84 points.
More than 161 million shares were traded on the northern market, worth VNĐ4 trillion. VNS