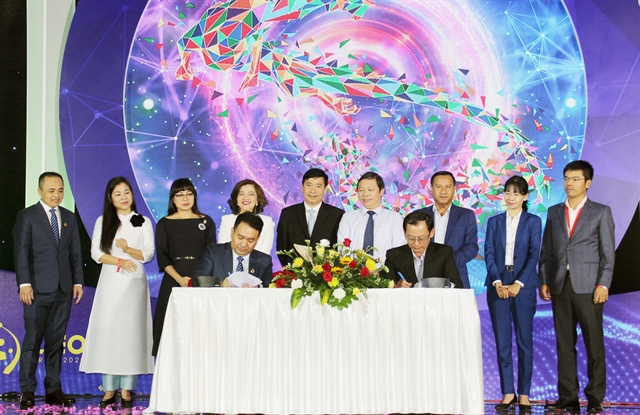 HCM CITY — Việt Nam is set to play the role of "value-creating" partner in the global supply chain by continuing to upskill its workforce, invest in infrastructure and enforce stringent governance standards after the pandemic ends, speakers said at a forum for CEOs held in HCM City on Thursday.
Speaking at the 2020 Việt Nam CEO Forum, Dương Anh Đức, vice chairman of the city People's Committee, said Việt Nam would play a more valuable role in the context of rapidly changing global value chains due to the pandemic.
To play such a role, businesses, especially small and medium-sized enterprises (SMEs), the backbone of the economy and the drivers of growth, must update their thinking, speed up their digital transformation, and become more competitive.
"It's also essential to diversify global supply chains to achieve inclusive growth and attract investment," he noted.
The Government has shown strong commitment to improving the business environment, he pointed out.
Lâm Ngọc Minh, chairman of the HCM City Young Entrepreneurs Association, said the global economy has experienced rapid changes due to the pandemic and other problems.
With trade levels already very high, Việt Nam needs further economic reforms to enable it to create more value in the global supply chain and become more competitive.
Võ Trí Thành, director of the Institute for Brand and Competitiveness Strategy, said the pandemic is a test of endurance of businesses and motivates them to improve their strengths to overcome the challenges it poses.
A number of recent surveys show that factories plan to move out of China to Southeast Asia, Mexico and the US.
Việt Nam has to compete with many other countries in the Southeast Asia to become a leading alternative manufacturing choice.
In addition to building export processing zones and industrial parks for investors, the country must also ensure better roads and other infrastructure.
In the last three months Vietnamese enterprises have received more than 2,000 export orders due to the Vietnam-EU Free Trade Agreement, mainly in the agricultural sector.
Don Lam, co-founder and CEO of VinaCapital, said by the end of 2021 many investors are expected to shift from supply chains in China to Southeast Asia, especially Việt Nam.
Vietnamese enterprises must meet international standards to join global supply chains, and would lose their brand names in the market unless they improve their competitiveness, he warned.
Businesses should focus on their own strengths and "ensure management of cash flow and market risk", he noted.
Other experts said Việt Nam should accelerate the adoption of automation and digital technologies, and diversify supply chains to attract foreign investment.
The country needs high-quality human resources, good infrastructure and new technologies, they said.
The Government also needs to offer support to businesses to help them overcome difficulties related to innovation, technology application and human resource training, they added.
Việt Nam's participation in global value chains remains limited despite being one of the most open economies, being 1.5 times and five times more open than Thailand and China.
The country has gradually improved its business environment to become an attractive destination for investors, but locally produced content in products remains low.
More than 1,000 CEOs attended the event.
The forum has been held since 2012 by HCM City's Young Business Association, the 2030 Businessmen's Club, the Leading Business Club, and the Business Association of High-Quality Vietnamese Products. — VNS