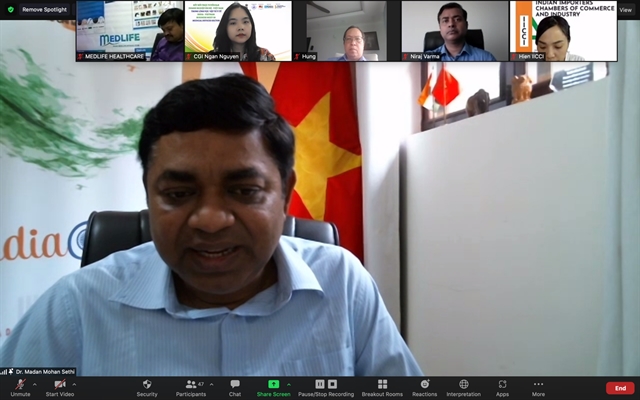 HCM CITY — The Consulate General of India in HCM City in collaboration with the Investment and Trade Promotion Centre of HCM City (ITPC) held a webinar about investment cooperation in medical devices between the two countries on Tuesday.
Dr. Madan Mohan Sethi, Consul General of India in HCM City, said the medical device industry in Việt Nam is one of the most promising sectors for foreign investment due to the country's rising demand for medical care and equipment.
"There is a lot of untapped potential in this area. The current COVID-19 crisis in Việt Nam has given an opportunity to both sides to join hands and set up alternative global supply chains in different products and pharmaceutical products that have been disrupted by the pandemic," he said.
Last week, the Indian community in southern Việt Nam donated an ECMO machine to the Tropical Diseases Hospital in HCM City, according to Sethi.
Trần Phú Lữ, deputy director of ITP, said that domestic medical equipment production only meets 1.5-2 per cent of demand and auxiliary technology is also limited, only meeting about 3 per cent of demand. Currently, most medical equipment is imported from developed countries.
Gurvinder Singh, director of Engineering Export Promotion Council of India (EEPC), said the Indian healthcare market is expected to reach US$372 billion by 2022.
India is the fourth largest market for medical devices in Asia and among the top 20 in the world. The virtual meeting was well attended by medical device manufacturers and suppliers from both sides. VNS