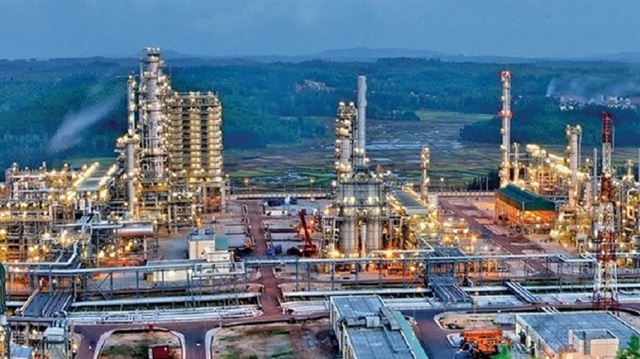 HÀ NỘI — The Ministry of Industry and Trade (MoIT) has requested relevant stakeholders to prioritise the use of domestic oil and gas products as Việt Nam's oil refineries are facing a risk of halting due to high inventories during the COVID-19 pandemic.
Providing nearly 40 per cent of petroleum output for the whole country, Bình Sơn Refining and Petrochemical Joint Stock Company (BSR)'s representative said: "Currently the consumption of petrol and oil trading centres is decreasing sharply, leading to a rapid increase in inventories and almost no capacity for storage."
Though BSR's customers committed to receiving goods at over 70 per cent of the ordinary market demand in the last two months, the pandemic slowed demand for travel and transportation, so consumption dropped more than 30 per cent.
Now, Dung Quất Oil Refinery has an inventory of more than 210,000cu.m of petroleum products of all kinds and over 430,000cu.m of crude oil.
Nguyễn Văn Hội, BSR's chairman, told the local media the firm has deposited 25,000 cu.m of RON95 gasoline in August.
"We are facing the risk of not having enough capacity to store our products as the warehouse system is almost full."
The firm said while domestic production of petrol and oil faced difficulties in consumption, petroleum imports in the past seven months remained high, putting pressure on BSR's petroleum production and making trade increasingly difficult.
According to the latest data of the General Department of Customs, petroleum imports of all kinds in July reached nearly 584,500 tonnes with a total value of US$387 million, up 8 per cent in volume and 21 per cent in value compared to June.
In general, in the past seven months, Việt Nam has spent $2.52 billion importing nearly 4.5 million tonnes of petrol and oil of all kinds with the average import price increasing by 38 per cent over the same period last year.
Data from the Vietnam Oil Corporation (PVOIL) shows that the total petroleum consumption volume of enterprises in August 2021 decreased by more than 40 per cent compared to the plan. In the context of implementing social distancing under Directive 16 in many provinces and cities, PVOIL's retail output decreased by 80 per cent in HCM City and southern provinces, 60 per cent in Hà Nội and 40 per cent lower across the whole market.
MoIT's Minister Nguyễn Hồng Diên has signed a document requesting the Vietnam Petroleum Association, the Vietnam National Petroleum Group, corporations and key traders in the import and export of petroleum and relevant stakeholders to prioritise the use of domestic products instead of imported ones.
As the base of most refineries in the country, earlier, the People's Committee of Quảng Ngãi Province sent a document to the Prime Minister to consider prioritising the use of petroleum from domestic oil refineries such as Dung Quất and Nghi Sơn to ensure the balance of supply and demand and minimise petroleum imports in order to support stable production and consumption of domestic units.
The document read: "Reducing the source of imported petroleum at this time will be a flexible solution to save domestic factories from the risk of halting operations, and at the same time help save foreign currency for importing domestic products."
From the end of July, BSR has gradually reduced the capacity of Dung Quất Oil Refinery and is currently operating at the minimum threshold of 80 per cent to help the plant operate safely.
At the same time, BSR has stored over 120,000 cu.m of RON 92/95 gasoline products and DO oil and also considered the option of chartering ships to store or export the products if the domestic market continues to deteriorate.
Regarding crude oil, BSR said it worked with PVOIL and partners to swap or slow down the schedule of receiving crude oil lots to avoid high inventories.
A representative of BSR said that because the market was facing difficulties in terms of petroleum consumption, the firm focused and shifted to producing and consuming petrochemical products.
The firm launched new PP plastic products to serve customers, competing with imported products from Korea, Thailand and Singapore.
Besides the efforts of enterprises, BSR's representative asked relevant authorities to have solutions to stabilise the market, regulate the output of imported petrol and oil to maximise the consumption of domestic products.
He said the authorities need to develop long-term policies with specific solutions to solve the oil refinery business amid natural disasters and the pandemic. — VNS