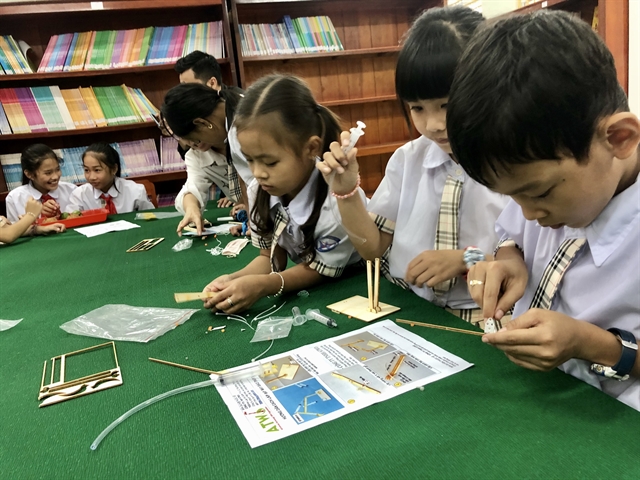 AN GIANG— The multinational company 3M has completed its first education project to provide grants to help children engage with STEM (Science, Technology, Engineering, and Math) equipment and explore hands-on scientific learning.
Beginning in May, the project was conducted for six months in An Phu District in the Mekong Delta Province of An Giang, a fairly remote area of Viet Nam.
In partnership with Loreto Vietnam, it benefited more than 2,000 students and 150 teachers from four schools, with a total grant amount of US$22,000.
Funds from the project supported the renovation of two computer rooms and three libraries  focusing on STEM, and provided more than 1,000 STEM practice tools and books.
At the same time, 3M produced supporting materials such as posters, booklets, and leaflets, and conducted mini-contests and school fairs among classes on STEM experiments.
In addition, 3M trained 20 principals, science teachers, and students from the four primary schools to become "master trainers".
Jacky Kang, 3M Vietnam Country Leader, said: "In the case of our STEM modeling project for primary schools in An Giang province, we aimed to inspire students in this rural area to discover how exciting science can be and that it's a part of real life, not just something you read about in a book."
Tran Anh Ngoc, chairman of An Giang Province's Union for Friendship Organization, said: "As one of the most remote areas in Viet Nam, most primary school students in An Phu district have never had access to science education."
"This project helps to bring them closer to science, teaching them to explore the world and to think innovatively," Ngoc added.
The project was part of 3Mgives, which supports initiatives in areas such as education to improve lives and provide solutions to some of the most pressing challenges in Viet Nam.
This year, 3M Vietnam aims to inspire others to create a better world through science, with a special focus on underprivileged primary school students in rural areas in Viet Nam. VNS