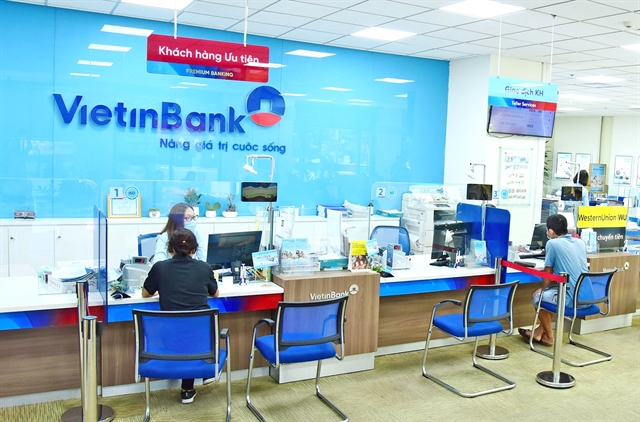 HÀ NỘI — The VN-Index dropped for a third day in the last four sessions this week, weighed down by the collapse of the banking sector, while the HNX-Index increased for a second day on stronger money inflow.
On the Hồ Chí Minh Stock Exchange, the VN-Index slipped 0.64 per cent to close Thursday at 1,301.13 points. The northern bourse's index has lost 3 per cent this week.
The slump of banking shares was the main drag.
Fifteen out of 16 listed banks on HCM City's exchange lost value and only Vietnam Maritime Bank (MSB) closed flat.
Vietinbank (CTG) was the biggest loser, down 3 per cent to VNĐ31,200 (US$1.36) per share. Other big decliners also included BIDV (BID), Techcombank (TCB), Vietcombank (VCB) and Military Bank (MBB) with decreases of between 0.7 per cent and 2.2 per cent. These were five of the top 10 shares weighing the VN-Index most.
Other large caps also slumped. Only six of the top 30 largest shares by market value and liquidity (VN30) gained value while 24 declined. Big losers included Vingroup (VIC), Novaland Investment (NVL), steelmaker Hòa Phát (HPG) and PV Gas (GAS), down 1.2 per cent with losses of more than 1 per cent each.
On the bright side, seaports and warehouses gained strongly. Many firms extended gains in the afternoon trade including Gemadept (GMD), Hải An Transport and Stevedoring (HAH) and Vinalink Logistics (VNL) which closed the trade around the ceiling price.
The fertiliser group also gained. Big companies such as PetroVietnam Cà Mau Fertiliser (DCM) and PetroVietnam Fertiliser and Chemicals (DPM) increased 4 per cent and 5.6 per cent, respectively, while smaller firms such as Southern Fertiliser (SFG) even hit the daily limit rise of 7 per cent.
Liquidity increased slightly with more than 524 million shares worth VNĐ17.8 trillion ($774 million) traded.
According to BIDV Securities, market breadth returning to a neutral state with lower liquidity compared to the previous period signalled cautious sentiment of investors. Thursday's correction also showed that investor sentiment is still weak and VN-Index is likely to move around 1,300 points in the next trading sessions.
On the Hà Nội Stock Exchange, the HNX-Index inched up 0.25 per cent to close at 336.85 points. The northern bourse's index rose 1.3 per cent on Wednesday.
More than 129 million shares worth nearly VNĐ3.3 trillion were traded, up 6 per cent in volume and 12 per cent in value compared to the previous session.
Foreign investors remained net sellers in HCM City, offloading shares worth net value of VNĐ604 billion, but they were net buyers in Hà Nội with a net buy value of VNĐ17.5 billion. — VNS