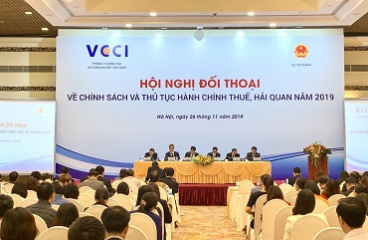 HÀ NỘI — Business leaders and policymakers reviewed the latest administrative and regulatory changes in taxation and customs during a meeting yesterday in Hà Nội.
Deputy Minister of Finance Vũ Thị Mai said her ministry has been seeking to facilitate business activities, especially in tax and customs procedures.
Administrative reforms have been implemented in recent years to modernise the country's tax code and management of import/export activities in accordance with international treaties and standards. Regulatory bodies have strived for greater efficiency and transparency to support businesses in coping with the COVID-19 pandemic.
One of the ministry's top priority is to complete the implementation of Việt Nam's one-door national portal, which aims to help business significantly reduce the amount of money and time spent on administrative procedures, particularly import/export businesses, according to Mai.
To date, the portal can process nearly 200 administrative procedures and allow businesses to file their tax applications electronically in a network that includes 55 commercial banks. A report by the ministry said 97.6 per cent have used the portal to pay their taxes. The General Department of Taxation has piloted a programme to issue e-invoices in Hà Nội and HCM City. The next step is to implement it nationwide from July 2022.
Meanwhile, the General Department of Vietnam Customs has made significant progress in upgrading its automated customs services and streamlining protocols, saving businesses time and money while reducing clearance time.
Hoàng Quang Phòng, vice-chairman of the Vietnam Chamber of Commerce and Industry (VCCI), said it's important for the customs and tax departments to work closely with the business community to identify inefficiencies.
At the event, businesses raised concerns over officials' responsibility and accountability for their audits, including those that may later turn out to be wrongful or unlawful. They also voiced concerns over instances in which officials' misconducts may cause businesses to suffer damage to their reputation or finances and what measures could be taken for firms to seek remedies.
The VCCI said it planned to collect feedback and suggestions from businesses for a report, which will be compiled and submitted to the Prime Minister once a month for reviews to address the most pressing issues faced by the business sector.
The finance ministry said it has appointed senior officers from the general departments of taxation and customs to follow up with questions and concerns raised by businesses during the forum.
The meeting is an annual event organised by the Ministry of Finance and the VCCI. — VNS