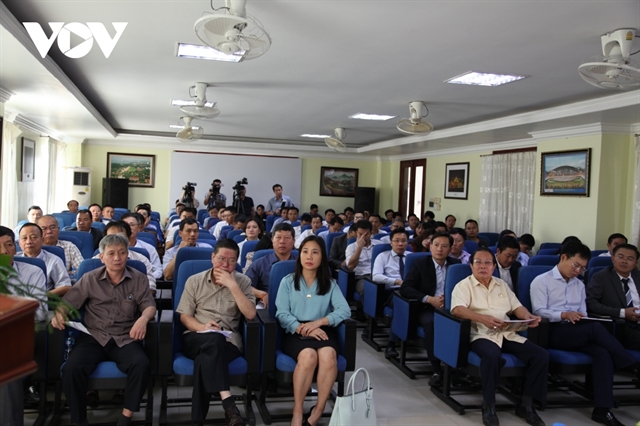 VIENTIANE — Over 100 Vietnamese firms doing business in Laos attended a conference in Vientiane on Sunday to put forward ideas to be submitted to the two Prime Ministers and ease difficulties they are facing.
Speaking at the event, Vietnamese Ambassador to Laos Nguyễn Bá Hưng said that with socio-political stability and great bilateral friendship, Laos is now Việt Nam's largest source of outbound investment, adding that as a member of the Regional Comprehensive Economic Partnership deal, Laos will realise policy and mechanism reform to create more favourable conditions for foreign firms, including Vietnamese.
As many as 14 corporate representatives praised the Lao Government's support for Vietnamese enterprises in the host country.
They suggested that the Vietnamese Government offer all possible support in terms of capital and resources to Vietnamese firms investing in Laos, such as mechanisms and policies related to land ownership rights, export and import of goods and labour.
Phạm Quang Phú, General Director of Sacombank in Laos, said Laos is a developing country with insufficient human resources and a small market scale but stiff competition.
Without efficient support from the Government, it is very difficult for Vietnamese enterprises to compete with foreign rivals in the same industry, Phú who is also vice chairman of the Vietnam Business Association for Cooperation and Investment in Laos (BACI), said.
That would lead to a sustainable growth in import and export turnover and deepening the bilateral relations between the two countries, he said.
During the event, enterprises also called on the two State banks and governments to consider encouraging the use of Lao and Vietnamese currencies to ease reliance on the US dollar and pressure on the shortage of foreign currencies.
Barriers to doing business in Laos should also be removed to carry the Lao economy forward, contributing to further tightening bilateral friendship, they said.
They also emphasised the importance of launching an investment support fund to small and medium-sized enterprises.
Phan Văn Sơn, Director of ISEEVINA import - export company, petitioned the leaders of the two governments to establish an investment support fund which could be raised from the State budget, commercial aid or from strategic investors and successful entrepreneurs.
With a value of between US$5 million and $10 million, the fund could incubate hundreds of start-up dreams, he noted.
According to the Association of Vietnamese Investors in Laos, Việt Nam now ranks third among countries and territories investing in Laos with over 400 projects worth nearly $4.2 billion.
In the first half of 2020, two-way trade reached $492 million, down 15 per cent year-on-year due to the outbreak of the COVID-19 pandemic. During the period, Vietnamese exports to Laos saw a yearly decline of 20 per cent to $277 million. — VNS