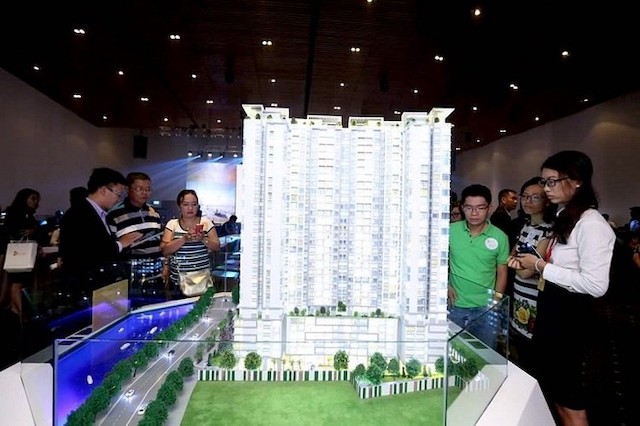 HÀ NỘI —Though difficulties caused by COVID-19 were reflected in the business results of listed realty firms, experts are still optimistic about the market.
Lê Nhị Năng, chief representative of the State Securities Commission (SSC) in HCM City, told a recent seminar on realty stocks that focused on investment strategy amid the pandemic that: "The realty market's difficulties are only short-term."
According to SSC, the pandemic was a common challenge to the economy and real estate market whose businesses were facing difficulties when projects were delayed, supply was declining and the market was quiet.
SSC said those challenges were reflected in the business results of listed firms, causing their revenue in the first six months to decrease by 26 per cent, while profit fell by 13 per cent over the same period. Among the listed firms, 20 reported losses and 35 saw profits drop.
Năng was still optimistic about the local stock market, adding: "By now, the number of listed firms with a capitalisation of more than US$1 billion each have reached 30 on both exchanges, mainly in the banking and finance group and real estate.
"Listed realty firms with market capitalisation of more than VNĐ1 trillion ($43 billion), accounted for 23 per cent of the whole market."
Năng said in the long term, buying demand for realty was still very large, especially in the context of the decreasing interest rates of banks. Therefore, realty stocks are of interest to investors.
He added: "Realty stocks are divided with strong gainers but strong losers. Investors should be careful to choose good stocks."
Võ Trí Thành, director of the Institute of Branding and Competition Strategy, shared the same opinion, saying: "Among many investment channels, it is necessary to give priority to choosing realty securities. In fact, although the economy is heavily affected by the COVID-19 pandemic, statistics in 2020 shows that the number of individual investors has increased dramatically, the market liquidity is quite high, and the VN-Index has bounced up since its bottom in March."
Trương Hiền Phương, senior director of KIS Vietnam Securities Corporation (KIS), said that the difficult times of the market have gone and the market will soon open up with medium and long-term opportunities for securities investors, including realty stocks.
Phương said: "Analysing and selecting potential stocks makes up 50 per cent of success in investing. The rest depends on when investors choose to sell."
Lại Đức Dương, Head of Real Estate Industry Analysis Department, Rồng Việt Securities (VDSC), said: "There are many opportunities for investors in realty stocks, especially short-term investment opportunities. Investors should focus on some of the most important factors such as clean land fund and legal status of the firms before buying their stocks."
Dương advised investors of realty stocks to check the land fund of the firms, saying: "The larger the land fund and the clearer the legal status is, the better the firms are as investments."
"Currently, many businesses just put projects with full legal status on their financial statements and don't update the projects that still have problems, making investors only see part of the picture, not the overall status of their firms."
According to Netland deputy general director Nguyễn Hữu Quang, investors need to find out about the financial situation and capacity of the business. If some investor buys the stocks at cheap prices, unfortunately many of them will fall into businesses with bad financial situations, adding: "Collecting those shares is no different from collecting garbage."
Differently, Nguyễn Minh Khang, general director of LDG Company, said that only short-term investors needed to pay attention to factors related to the development orientation and plans of the realty firms. Investors with medium and long-term trends should buy any stocks below par value, with the price of each share below VNĐ10,000.
According to KIS Vietnam Securities Corporation (KIS), the real estate industry's outlook was very good as the Government was removing difficult policies for real estate businesses and realty loan rates were listed at an attractive rate, so realty stocks were considered with higher profit by investors. ‑ VNS