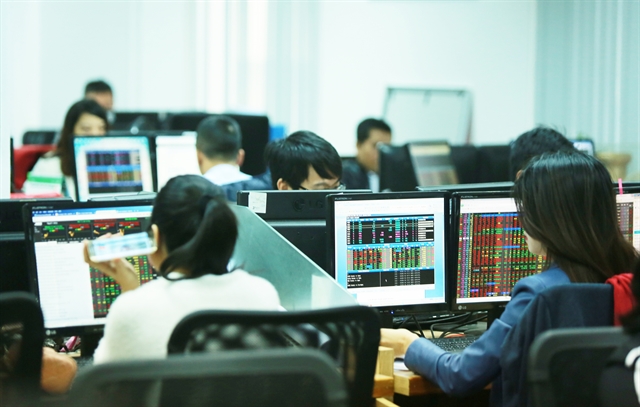 HÀ NỘI — Vietnamese shares extended rallies on Monday as material and brokerage firms advanced on strong domestic purchasing power.
The benchmark VN-Index on the Hồ Chí Minh Stock Exchange advanced 0.42 per cent to 994.19 points.
Việt Nam's major index rose a total 2.45 per cent last week.
The VN-Index has also increased by total 4.56 per cent after the last five trading days since November 17.
The material and brokerage sectors boosted the market on Monday as domestic investors remained optimistic at the moment, BIDV Securities Corp (BSC) said in its daily report.
The two industry indices were up 3.7 per cent and 2.8 per cent, respectively.
Top stocks in the two sectors advanced such as SSI Securities (SSI), HCM City Securities (HCM), steel producers Hòa Phát (HPG) and Pomina (POM).
SSI rose 2.8 per cent, HCM jumped 3.3 per cent, HPT soared 5 per cent and POM surged 6.9 per cent.
Strong growth was also seen in other large-cap shares in the fields of retail, utilities, technology, consumer and real estate.
PetroVietnam Gas (GAS) was up 2.1 per cent, retailer Mobile World Investment (MWG) rose 2.2 per cent, and residential property firm Vinhomes (VHM) increased by 2.7 per cent.
Those blue chips pushed the large-cap tracker VN30-Index up nearly 1 per cent to 960.03 points.
In the VN30 basket, 17 of the 30 largest stocks by market value and trading liquidity increased while 10 declined.
The VN30 futures due on December 17 was up 0.73 per cent to 959.4 points on Monday.
Mid-cap and small-cap stocks also drew interest from investors.
The two trackers were up 0.30 per cent and 0.63 per cent, respectively.
On the Hà Nội Stock Exchange, the HNX-Index gained 0.66 per cent to 148.18 points.
The northern market index increased by total 1.70 per cent last week and totalled a five-day rally of 3.36 per cent since November 17.
Nearly 558 million shares were traded on the two exchanges, worth VNĐ11.7 trillion (US$503.8 million).
Foreign investors were net buyers and that gave the market sentiment big support, BSC said.
"The area around 1,000 points will be the target in the next trading days," BSC said. "There may be short-term profit taking pressure at this level." — VNS