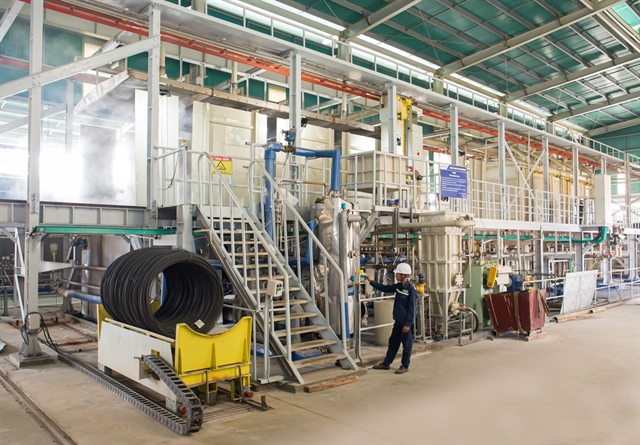 HÀ NỘI — Việt Nam's stock market closed higher yesterday, marking the third straight gaining session.
The market benchmark VN-Index on the Hồ Chí Minh Stock Exchange (HoSE) rose 3.33 points, or 0.25 per cent, to 1,331.47 points. The index struggled during the session due to rising selling force in some large-cap stocks. However, investors' risk appetite helped the index finished higher at the end.
The market's breadth remained positive as 206 stocks climbed, while 186 slid, and 40 stayed unchanged.
The liquidity continued to improve compared to the previous session, with nearly VNĐ22.9 trillion (over US$1 billion) being poured into the market, equivalent to a trading volume of more than 733.8 million shares.
The benchmark's gain was supported by pillar stocks, mostly in material and real estate sectors.
But the VN30-Index, tracking 30 biggest stocks on HoSE, reversed course in the afternoon session, down 0.17 per cent to 1,428.66 points. Fourteen stocks of the VN30 basket increased, while 13 declined and three ended flat.
Of the top five stocks dominating the market's trend, Việt Nam Rubber Group (GVR) was the biggest gainer after rising 3.06 per cent.
Other four stocks included PetroVietnam Gas (PVGas, GAS), Masan Group (MSN) and Hoà Phát Group (HPG), up in a range of 1.23 - 2.17 per cent.
Many other stocks in real estate witnessed strong growth like Phát Đạt Real Estate Development (PDR), up more than 2.8 per cent, Becamex CM), up 5.39 per cent, Kinh Bac City Group (KBC), up 6.1 per cent.
The index's gain was capped by stronger profit-taking activities in the banking sector, with many bank stocks extending their losses in the afternoon trade.
Accordingly, a series of big-name posting losses of more than 1 per cent, including Vietinbank (CTG), Techcombank (TCB), BIDV (BID), MBBank (MBB), HDBank (HDB) and Sacombank (STB).
Analysts from Saigon - Hanoi Securities (SHS) said that even though the index extended rallies, it still could not breach the resistance level of 1,335 - 1,340 points. Therefore, the market is still in the corrective wave.
The securities firm suggested that investors with big stock proportion can reduce their portfolio in the technical recovery sessions. Meanwhile, investors who already took profit of the short-term portfolio should continue to take a wait-and-see approach to observe the market, avoiding buying in at the moment.
On the Hà Nội Stock Exchange (HNX), the HNX-Index inched 0.44 per cent higher to close yesterday at 342.81 points.
During the session, investors injected more than VNĐ3.3 trillion into the northern bourse, equivalent to a trading volume of 151.59 million shares.
On the other hand, foreign investors still net sold on the market with a total value of VNĐ103.38 billion. They net sold a value of VNĐ191.69 billion on HoSE, while net bought VNĐ88.31 billion on HNX. VNS