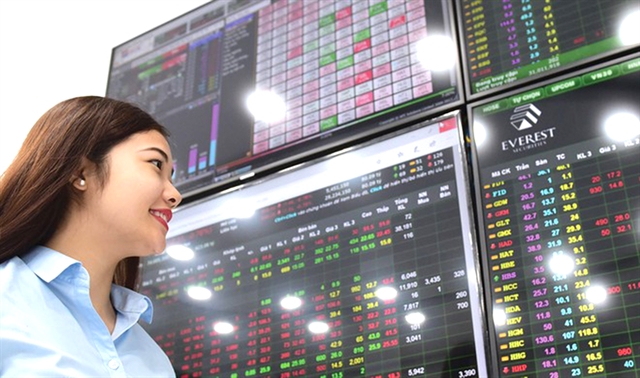 HÀ NỘI —Securities stocks have seen significant growth in market prices thanks to mergers and acquisitions (M&A) in Việt Nam.
APG Securities JSC (APG) have risen 43 per cent for two weeks with six sessions witnessing prices touching the ceiling. APG shares are now being traded around VNĐ16,350 (US$0.72) per share.
Louis Capital Joint Stock Company (TGG) announced to shareholders a plan to increase charter capital to approximately VNĐ573 billion through the private placement of 30 million shares to investors at the price of VNĐ15,000 per share, equivalent to the proceeds of VNĐ450 billion. TGG is expected to disburse about VNĐ200 billion to buy shares of APG.
APG was traded at VNĐ9,000 per share two months ago, after the news about the deal, its shares have soared thereafter.
Everest Securities Joint Stock Company (EVS) also recorded an increase of nearly 50 per cent in the last two weeks, currently traded at VNĐ36,100 per share.
EVS plans to organise an extraordinary shareholder meeting on September 30 with the aim to replace its members of the board of management.
The company has announced the private placement plan of 40 million shares at the price of VNĐ16,000 per share, equivalent to an amount of VNĐ640 billion.
The stocks are offered to professional securities investors, of which the largest investor has registered to buy 20 million shares. After the issuance, this investor's ownership rate will increase to 19.42 per cent.
The proceeds from the placement will be used for increasing capital for business activities and supplementing the margin lending capital.
The offering is expected to take place from the third quarter to the fourth quarter of 2021. All shares offered for private placement will be restricted from being transferred for one year.
After this offering, the charter capital of Everest securities will increase to more than VNĐ1 trillion.
EVS was formerly known as Ocean Securities Joint Stock Company (OCS), once controlled by Ocean Group (OGC).
In early 2018, OGC completed the transfer of all 22.5 million OCS shares, equivalent to 37.5 per cent of capital, to four individuals including Nguyễn Ngọc, holding 9.5 per cent of capital, Phạm Xuân Thành, owning 9.5 per cent capital, Nguyễn Thanh Tùng and Nguyễn Thị Thuỳ Dương each receiving about 9.5 per cent.
Vietinbank Securities Co (CTS) also increased by 23 per cent in the last two weeks. According to a report published in July by KB Securities Co (KBSV), CTG is looking for a strategic partner to offer 15 per cent of its capital, bringing the ownership ratio down from 75.6 per cent to over 50 per cent. VNS