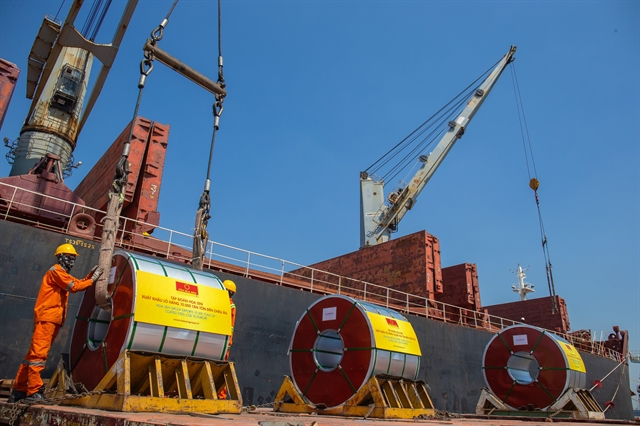 HÀ NỘI — Hoa Sen Group on Wednesday reported revenue and after-tax profits of VNĐ4.9 trillion (US$214.6 million) and VNĐ302 billion in July, representing 97 and 124 per cent year-on-year increases, respectively.
Its report showed that last month, its steel consumption reached 189,474 tonnes, increasing 19 per cent from the same period last year. The hike in steel consumption, revenue and profit came from exports of galvanised steel. In July, Hoa Sen Group's steel sales reached 158,000 tonnes of galvanised steel. Of which, 123,000 tonnes were exported, accounting for 41 per cent of the country's total steel exports and 67 per cent of the group's total steel consumption.
In the 10 months of its financial year of 2020-21, the group sold 1.9 million tonnes of steel, up 50 per cent from the same period last year and surpassing 5 per cent of the set targets. Its revenue in the 10 months of the financial year was VNĐ37.8 trillion, posting a 75 per cent year-on-year increase and surpassing 15 per cent of the whole year's set target. Its after-tax profit in the period reached VNĐ3.6 trillion, 4.4 times higher than the corresponding period last year.
With a wide export channel to more than 87 countries and territories, Hoa Sen signed export contracts with customers till the end of November with an average volume of over 120,000 tonnes a month.
In the context of decreased domestic demand due to the COVID-19 pandemic, the export channel has become a life vest to help Hoa Sen maintain revenue and profit growth. The main drivers of export volume are the US and European markets, which have higher profit margins compared to other markets. The group expects the proportion from the US and European markets to increase from 20-30 per cent to more than 50 per cent.
Hoa Sen Group has a wide retail distribution system across regions and 10 factories located near international ports. It has been proactive in implementing the "three on-site" model before the pandemic outbreak. These have helped the group ensure production and supply. Its factories with maximum capacity would maintain a stable sales volume of at least 160,000 - 170,000 tonnes a month, bringing in VNĐ4.5 trillion in revenue each month from now until the end of the financial year. — VNS