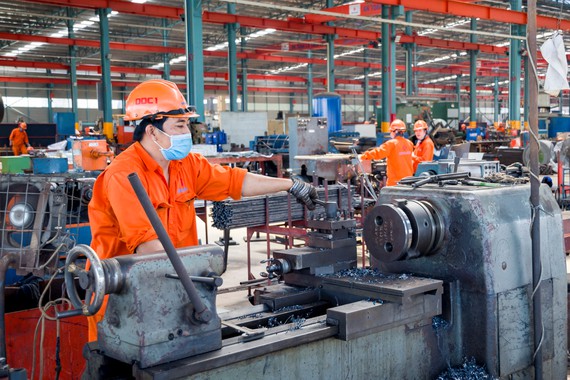 HCM CITY – The HCM City Export Processing and Industrial Zones Authority is helping businesses at industrial parks that house their staff buy food and other essential goods amid the stricter social distancing mandate currently in place to curb the spread of COVID-19.
Phạm Thanh Trực, deputy head of the HCM City Export Processing and Industrial Zones Authority (HEPZA), said retailers have sent lists of items such as rice, milk, egg, and meats at discounted prices.
Businesses wanting to buy food for their staff can register twice a week with HEPZA, which will pool the orders and send to the Department of Industry and Trade.
The department will organise delivery to each business.
On the first day over 40 companies registered to buy.
Some stocked up on food before the social distancing orders became stricter on Monday.
Đại Dũng Metallic Manufacture JSC in Bình Chánh District's An Hạ Industrial Park has for instance stocked tonnes of rice, meats, vegetables, and instant noodles for the nearly 1,000 workers it houses.
Trịnh Thị Thu Hiền, who is in charge of logistics, said Phạm Văn Hai Commune, where the factory is located, has also offered to help buy food.
The department is also allowing businesses supplying essential items to transport their goods despite the strict preventive measures to ensure businesses do not run out of food.
More than 720 factories in industrial parks and processing zones have accommodated over 60,000 workers in their premises and elsewhere.
The city, Việt Nam's current COVID epicentre with over 190,000 cases, has instructed the public to "stay where they are" at all times, and strictly follow safe distancing between individuals, families, residential quarters, and wards.
It is helping people get food and groceries without leaving home by having organisations such as the Women's Union, community-based COVID-19 prevention teams and other voluntary groups work with the police and military to deliver them.
The Vietnam General Confederation of Labour is also helping provide free meals to its members staying in factories. VNS