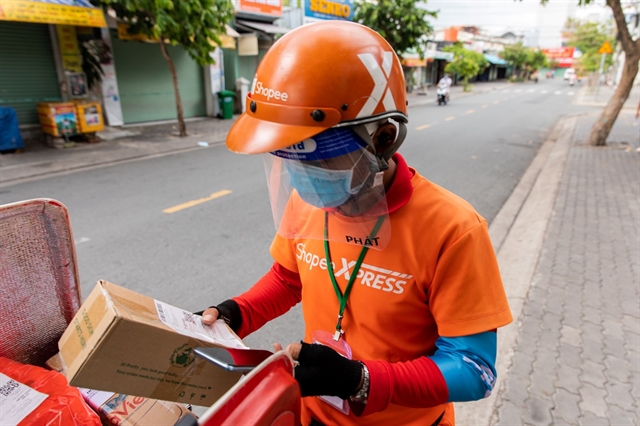 HCM CITY – E-commerce platforms have resumed deliveries in HCM City and some of the city's extremely high risk areas (red zones) since August 30, a week after they were banned.
Shopee told Việt Nam News: "Following the instructions allowing shippers to resume operations under certain conditions, Shopee has swiftly co-ordinated with our shipping partners to increase the number of delivery people and provide them with safety kits."
It has also quickly increased the number of workers at sorting warehouses to complete the orders, it said.
Periodic disinfection of the warehouses are strictly followed in close co-ordination with local health authorities.
Trần Tuấn Anh, director of Shopee Vietnam, said: "We have ensured compliance with all applicable regulatory measures during this period to enable easy access to essential products for our users. Shopee is always committed to adapting to the situation and ensure our users' demand is met, and continues to take part in the supply chain of foods and other essential goods."
To resume shipping in red zones, Shopee said it is collaborating with delivery partners to constantly equip riders with traffic guidelines and vaccination certificates.
Also, its delivery persons are required to strictly comply with the Government's 5K preventive measures and contactless delivery, it said.
Another e-commerce platform, Lazada Vietnam, also said it has resumed shipping since August 30.
It told Việt Nam News that it has delivered thousands of orders, and the number is expected to increase in the coming days.
It has focused on expanding the supply of goods and ensuring the safety of employees, partners and customers like providing drivers with quick test kits and helping them get vaccinated, it said.
Through September it is offering a discount of up to 50 per cent to customers in Hà Nội, HCM City, Long An, Bình Dương and Đồng Nai.
James Dong, general director of Lazada Vietnam and Thailand, said: "The application of social distancing has contributed significantly to the prevention of the epidemic, but also caused the delivery of goods to take a long time, greatly affecting consumers, manufacturers and suppliers.
"Therefore, we greatly appreciate the decision of the Government and the authorities in allowing the delivery staff to resume work again at this time.
"As an e-commerce platform connecting people's shopping needs with business partners and sellers, Lazada will continue to make efforts to expand product supply and develop human resource to join hands with the Government and the community to fight the epidemic."
Other platforms like Tiki and Sendo said they are actively working on resuming operations in HCM City's red zones.
Sendo has yet to resume delivery but said it would announce resumption soon.
TikiNOW Smart Logistics, Tiki's delivery subsidiary, is in the process of resumption of operations and said it would announce details when completing plans.
Recently, due to the social distancing measures in HCM City, deliveries by e-commerce platforms have been slow, especially after they were banned in the eight red zones of Thủ Đức City and the districts of Gò Vấp, Bình Tân, Bình Thạnh, Districts 12 and 8, Bình Chánh and Hóc Môn.
Many consumers said they have had to wait for delivery of orders for a very long time, often for more than a month, and so they are pleased with resumption of shipping.
Đỗ Phạm Hồng Minh of District 7 said despite not living in a red zone, he faces many difficulties in buying essential goods.
"I ordered washing soap on an online platform. It has been a month, but I have not received the product.
"The resumption of delivery services is really very good news for HCM City's residents, especially those living in red zones."
A woman in Gò Vấp District who asked not to be named, said the information about the resumption of delivery services in the previously banned areas made her very happy especially with the new school year starting soon.
"For weeks I tried to buy notebooks and other school items for my children but failed. I live in a red zone and so it is even more difficult. Now shipping services are resuming... really good news for me and my children."
The city People's Committee's decision to allow resumption of delivery services all over the city is part of efforts to ensure the supply of food and other essential goods amid the social distancing.
To resume operations, delivery persons need to be vaccinated against COVID-19 and carry a negative COVID-19 test report. – VNS