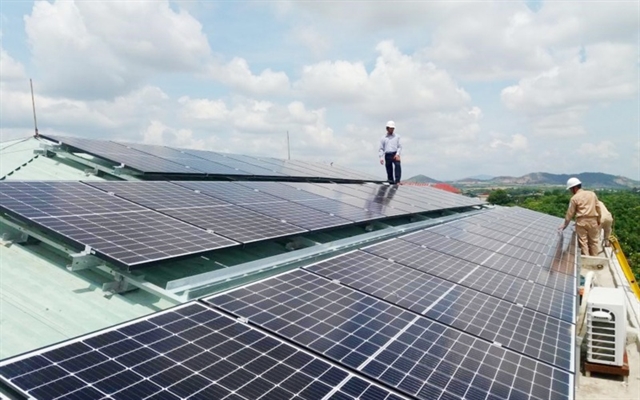 HÀ NỘI— Standard Chartered Vietnam and the British Chamber of Commerce in Việt Nam (Britcham) have signed a partnership agreement to promote sustainable development in Việt Nam and the application of Environmental, Social & Governance (ESG) policies among businesses.
The first activity is the launch of a webinar series covering six matters related to ESG and sustainability. This will support participating businesses and organisations to devise effective strategies for sustainable development. The events will involve key stakeholders from the government, regulators and industry thought leaders.
Michele Wee, CEO for Standard Chartered Vietnam, said: "Adopting a sustainability mindset and ESG in their investments and operations will help businesses create long-term, resilient growth, which will then translate into social, environmental and economic benefits for Việt Nam. We need to accelerate investor education to achieve progress and make a difference. We are very pleased to partner with Britcham in this meaningful initiative."
"We aim to help emerging markets and here in Việt Nam to reduce carbon emissions as fast as possible, without slowing development, putting the world on a sustainable path to net zero by 2050. We want to support and mobilise finance needed to provide people with clean energy, drive carbon-free transport and facilitate the decarbonising of the manufacturing industry."
Denzel Eades, a British Chamber of Commerce Vietnam board member, said: "The governments of Việt Nam and the UK have both recognised the strategic importance of sustainability in their development agenda. So have Britcham member businesses."
"The webinar series is a further step in our efforts to promote sustainable development in Việt Nam by providing our members the latest insights on the global practices and local environment as it comes to sustainability and ESG."
BritCham has established the Sustainability Working Group, which aims to support the ESG initiatives of its members. Standard Chartered Vietnam is an active member of the working group. The bank's vision is to be the world's most sustainable and responsible bank, and the leading private sector catalyser of finance for SDGs where it matters most, across Asia, Africa and the Middle East.
In the run up to COP26 in Glasgow, the working group will be coordinating BritCham's engagement with programmes led by the UK Department for International Trade to facilitate its member participation in the Race to Zero campaign and involvement in the SME Climate Hub.
The sustainability webinar series hosted by Britcham and Standard Chartered Vietnam will be an important component of these programmes.
The first webinar is scheduled to take place on September 28, 2021. The theme is: "Carbon markets and their role in reducing greenhouse gas emissions, perspectives from Việt Nam and Global." — VNS