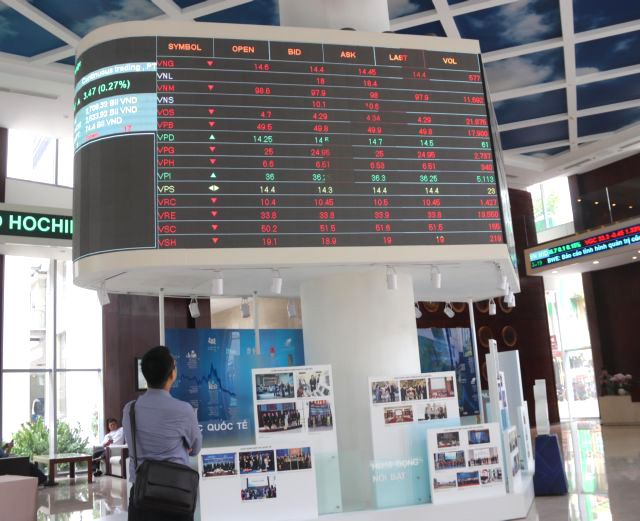 HÀ NỘI — Market experts forecast that foreign investors will undertake strong net buying in the fourth quarter of this year to prepare for next year's economic recovery after large-scale immunisation campaigns.
In the first eight months of 2021, Việt Nam's stock market witnessed the largest value of foreign investors net selling. As of August 30, foreign investors net sold more than US$1.5 billion. Previously in 2020, they net sold about $1 billion.
"After a net buying streak in early July 2021, foreign investors have returned to net selling in August," said Nguyễn Thế Minh, director of Analysis Division at Yuanta Vietnam Securities Co.
This showed that foreign investors were worried that the COVID-19 situation might become more complicated like Thailand and the Philippines. Therefore they moved more cautiously, he said.
"Exchange-traded funds (ETFs) also had net withdrawals recently, such as the Taiwanese investment fund Fubon FTSE Vietnam ETF, which was previously a strong net buyer but saw a strong net withdrawal recently," he said.
"Actually, foreign investors are not withdrawing money from the Vietnamese market but waiting for the opportunity to disburse again. In other countries, whenever a strain of COVID-19 is controlled, the stock market goes up. Perhaps foreign investors are waiting for a more stable situation to return to the market," he said.
"When foreign money flows out of the stock market, it may have moved to other investment channels, such as the bond channel, which is attracting capital flows quite well. Until the risk in the stock market decreases, foreign investors may disburse again.
"There is an element impacting the withdrawal of money from the Vietnamese market, which is the exchange rate. In 2018, foreign money flowing into Việt Nam was very strong, while at that time the USD/VND exchange rate was very high. If foreign investors withdraw money from the Vietnamese market now, they will have to suffer exchange rate losses.
Minh said that in the next few weeks foreign investors would reduce their net selling and the trend of net buying is forecast to be clearer in October 2021.
"I think the Vietnamese economy will suffer heavy damage in the third quarter of 2021 but will recover in the fourth quarter," he said.
Việt Nam can also continue to benefit from the trend of production shifting and become an important hub in the production chain in Southeast Asia, he said.
"The Government will accelerate public investment packages in the fourth quarter of 2021. These are the factors that will attract foreign capital flows back to Việt Nam's stock market," he said.
According to Lê Chí Phúc, General Director of SGI Capital, besides Việt Nam, other small emerging markets also saw net withdrawals in the first months of the year.
"However, when the economy enters a clear recovery cycle, money flow will return into the frontier markets including Việt Nam. Some other frontier stock markets have started to see net buying," he said.
"Foreign investors may withdraw from the stock market but have invested more in the bond market," said Tạ Thanh Bình, Director of the Market Development Department, State Securities Commission.
"Recently, the number of newly established funds has increased in both quantity and size, which shows the interest of institutional investors in Việt Nam's stock market," she said.
According to Lê Ngọc Nam, Director of Investment Analysis and Consulting, Tân Việt Securities Joint Stock Company, foreign investors had continuously net sold strongly in the past two years, mainly due to the cash flow of investment funds returning to more developed markets.
"For example, in the US or European countries, the stock indexes are continuously increasing because their economic stimulus packages are making interest rates here very low, thereby boosting the stock market," he said.
"Besides, the disease control and vaccination campaign in these countries are effective thus economic activities return to normal faster," he said.
Meanwhile, in Việt Nam, large enterprises are often involved in industries requiring direct contact, so the implementation of distancing measures will seriously affect production and business. This is probably the main reason why foreign investors tend to have a strong net withdrawal, he said.
"However, although foreign investors have made a strong net withdrawal, it did not affect the market much thanks to the strong domestic cash flow. The domestic cash flow in the stock market rose because of the low interest rates on bank deposits. Investors tend to find a more attractive investment channel with better returns," said Nam.
BOS Securities Joint Stock Company (BOS) said the capital outflow from the Vietnamese stock market was only temporary and would soon return thanks to market upgrading.
Morgan Stanley Capital International (MSCI) may put Việt Nam's stock market on the watchlist for upgrading from frontier market to emerging market in June 2022 during its assessment period.
"The prospect of market upgrading will help attract large capital flows from foreign funds, increasing its attractiveness to foreign investors," said BOS. VNS