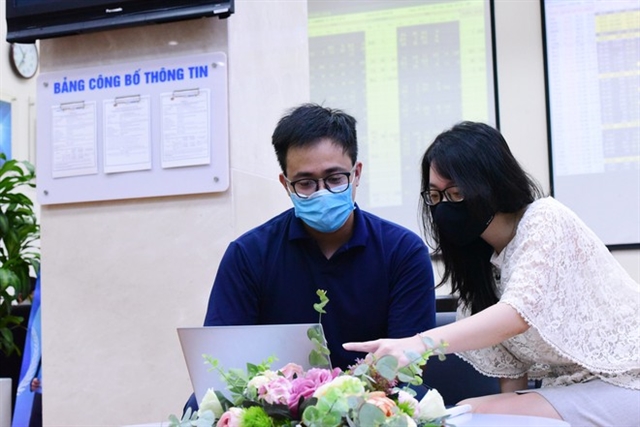 HÀ NỘI - The IFC and the World Bank, in partnership with the Australian government, are implementing a multi-year advisory programme to facilitate Việt Nam's stock market development, the IFC announced on Tuesday.
The programme is expected to improve Việt Nam's regulatory framework, market infrastructure, capacity of regulators and new product development.
"The aim of the strategy is to build the capital market into an important medium and long-term capital conduit for the economy, unlocking the market's potential to effectively serve economic growth and opening up reasonable and well-balanced sources of capital to the economy and enterprises," said Vũ Chí Dũng, director general of the International Cooperation Department, State Securities Commission.
"The plan is developed to be in line with international best practices and standards, ensuring investor protection and market confidence," he said.
"Deep, efficient, and well-regulated local capital markets create access to long-term, local-currency finance necessary for the development of a thriving private sector, the key driver of jobs and sustainable growth," said Lâm Bảo Quang, IFC Acting Country Manager for Việt Nam, Cambodia, and Lao PDR.
"Accelerated reforms are urgent and more critical than ever to enable a broad and diversified investor base for Việt Nam's capital market as public resources become scarce and the country will need large volumes of long-term, local currency financing to recover and continue investing in sustainable growth given the impact of COVID-19."
A conference has jointly been held by the World Bank Group (WBG) and the State Securities Commission (SSC), discussing the Draft Securities Market Development Strategy 2021-2030 prepared by the SSC and a multi-phased roadmap proposed by the WBG for equity capital market development with a focus on improving investor accessibility.
The proposed roadmap addressed key constraints to foreign investor accessibility by including new mechanisms to ease the pre-funding requirement for securities trades, solutions to address limitation of foreign ownership of stocks, and improvements in disclosures in English.
Regulators from the Ministry of Finance, the State Bank of Việt Nam, the Ministry of Planning and Investment, the National Finance Supervisory Commission, development partners including Australia and Switzerland, and market stakeholders also discussed the regulatory implementation progress and proposed cross-work among multiple ministries and government agencies to facilitate market development.
This programme is part of the Joint Capital Market Development Program (J-CAP) - a WBG initiative working on local debt and equity capital market development in selected countries worldwide, including Việt Nam.
The J-CAP initiative was established in 2017 to help developing countries realise the benefits of strong local capital markets.
"Mature, well-regulated capital markets that meet international standards are critical for diversifying financing options and will be pivotal for Việt Nam's next development phase. More sophisticated capital markets will be a crucial source of domestic financing and also support higher levels of higher quality foreign investment," said Mark Tattersall, deputy head of Mission of the Australia Embassy in Việt Nam.
"Following Australian Prime Minister Morrison's announcement in January 2021 of A$2.2 million to support Việt Nam's capital market development, Australia is pleased to announce our partnership with the World Bank Group and SCC through the J-CAP programme to support equity market development and reform."
Support from the Australian government that enables J-CAP's work on equity market development in Việt Nam comes alongside support from the government of Switzerland which enables closely related work on bond market development.
JCAP's wider work elsewhere is also supported by the governments of Australia, Germany, Japan, Luxembourg, Norway, the Netherlands as well as Switzerland.
IFC - a member of the World Bank Group - is a global development institution focused on the private sector in emerging markets. In fiscal year 2021, IFC committed a record US$31.5 billion to private companies and financial institutions in developing countries, leveraging the power of the private sector to end extreme poverty and boost shared prosperity as economies grapple with the impacts of the COVID-19 pandemic.
The World Bank Group plays a key role in the global effort to end extreme poverty and boost shared prosperity. It consists of five institutions: the World Bank, including the International Bank for Reconstruction and Development and the International Development Association; the International Finance Corporation; the Multilateral Investment Guarantee Agency; and the International Centre for Settlement of Investment Disputes.
Working together in more than 100 countries, these institutions provide financing, advice and other solutions that enable countries to address the most urgent challenges of development.
Australia and Việt Nam's strategic partnership extends across political, security, economic and people-to-people activities. Australia is committed to a development agenda in Việt Nam, including to support health security, stability and economic recovery from the COVID-19 pandemic. In 2021-22 Australia commits an estimated A$78.9 million in total overseas development assistance in Việt Nam. VNS