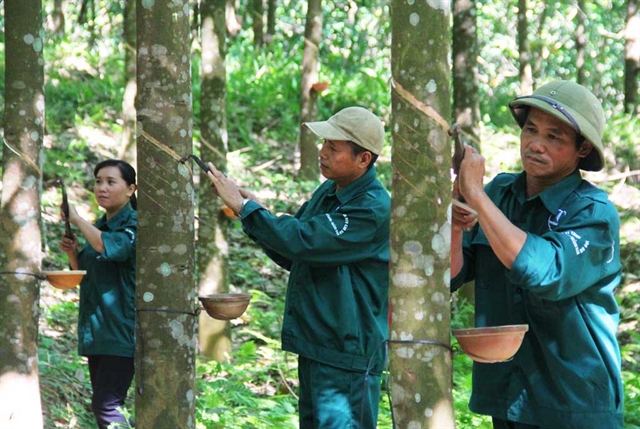 HCM CITY — Rubber exports this year have exceeded a million tonnes worth US$1.68 billion, year-on-year increases of 27 per cent and 66.1 per cent, according to the General Department of Vietnam Customs.
The Ministry of Industry and Trade's import-export department said however exports had been hit hard since many businesses had to cease or reduce production as their plants were in locked-down areas or did not have enough workers.
Besides, high freight rates, forecast to continue until next year due to the shortage of empty containers, also affected exports, it explained.
According to the customs department, China remained the largest market, accounting for 67.4 per cent of Việt Nam's total rubber exports, followed by the EU and India.
China bought 643,000 tonnes in the first seven months of this year.
The EU bought 49,815 tonnes for $89.79 million, 71.4 per cent and 124.7 per cent up.
Exports to India increased by 70.6 per cent in volume and 119.7 per cent in value to 47,363 tonnes and $85.5 million.
The department said rubber exports to major markets were expected to grow thanks to rising demand there and their gradual economic recovery.
In the domestic market, the price of raw latex had been increasing. — VNS