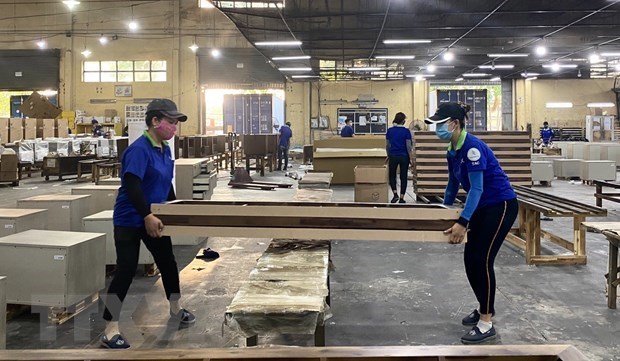 HÀ NỘI — The novel coronavirus has finally caught up with Vietnamese wood exporters, who have reported robust growth during the first half of 2021.
According to the country's General Department of Customs, Vietnamese firms exported just shy of US$9.6 billion worth of timber and wood products in the first seven months of 2021, a 55 per cent increase year-on-year, an impressive feat during a global pandemic.
The industry, however, appeared to have run out of luck since the beginning of the fourth outbreak recorded in the country in late April. During the first half of August, timber and wood products export plummeted by as much as 45.4 per cent compared to the same period last year to $373 million. The slowdown started in July when the country's timber and wood products export dropped by 14.4 per cent compared to June to $1.3 billion.
Major export markets have been hardest hit. In July, export of timber and wood products to the US has fallen by 16.44 per cent, to China by 19.99 per cent, to France by 26.25 per cent, to Germany by 15.94 per cent and to Malaysia by 21.07 per cent.
This shouldn't come as a surprise, said industry experts.
"Since Government Directive 16 - a string of social distancing measures and mobility restrictions designed and implemented by the Vietnamese government to stop the spread of the novel coronavirus - went into effect, out of 600 HAWA members only 30-40 per cent managed to stay operational," said Nguyễn Chánh Phương, vice-president of the Handicraft and Wood Industry Association of HCM City (HAWA).
"Those who have yet been forced to stop could only operate at 35-40 per cent capacity. Things looked even bleaker in neighbouring province Bình Dương - another major manufacturing hub of timber and wood products in Việt Nam - where even more firms were closed down," Phương said.
In a recent survey by the Association of Vietnam Timber and Forest Product (VIFORES) on 162 wood manufacturers in HCM City, Bình Dương, Đồng Nai, Long An and Tây Ninh that employed nearly 68,000 workers, 52 per cent said they had been forced to close down with over 44,100 workers laid off.
"It's very unfortunate because demand in our traditional export markets has shown signs of recovery but it doesn't look like we will be able to ensure supply for them, at least until the end of 2021," he said.
For those who still managed to keep their doors open, things are getting dicey.
In order to keep their operation running, firms must be able to enforce the 3 on-site rules: on-site production, on-site social distancing and on-site accommodation. This often comes with enormous additional costs associated with regular virus testing, providing workers with meals and beds in line with safe social distancing rules, all of which firms were ill-equipped and unprepared to do.
"Cost to acquire a quick test typically ranges from VND280,000 or $12.3 [for firms with more than 100 workers] to VND350,000 [for one individual]. PCR test - which is slower to produce a result but tends to be more accurate - may cost up to VND2 million per individual," said a VIFORES representative.
It quickly added up as firms must test thousands of workers with quick tests every three days and with PCR tests every seven days.
The association said many firms were already at breaking point after almost two years of struggling to cope with the pandemic. It's unlikely that they will be able to hold out much longer. — VNS