HCM CITY — Masan Group Corporation was one of the top 10 companies in terms of investment and M&A deals in 2019-20, with its subsidiaries striking deals with VinCommerce, Starck, NET, and 3F.
On November 11, at the 2020M&A Forum, the biggest annual event for mergers and acquisitions and investment networking in Việt Nam, which is organised by Vietnam Investment Review newspaper published by the Ministry of Planning and Investment, the organising board and jury for the Best M&A Dealsannounced the top 10 M&A list with Masan in the topspot.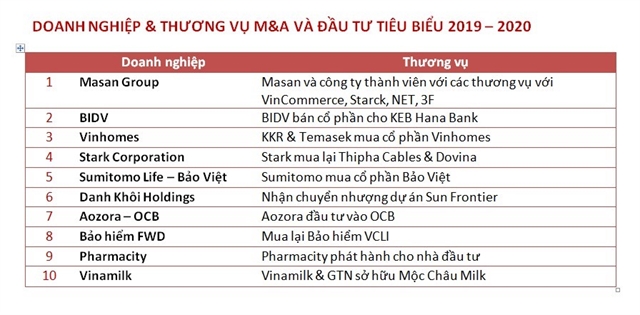 The list of best deals helps businesses and investors understand the size and nature of mergers and acquisitions in Việt Nam over the past year.
The value of M&A deals in Việt Nam in 2020 is expected to reach US$3.5 billion. The value of deals exclusively between Vietnamese firms has increased from 12 per cent of the total in 2018 to 33 per cent in 2019-2020.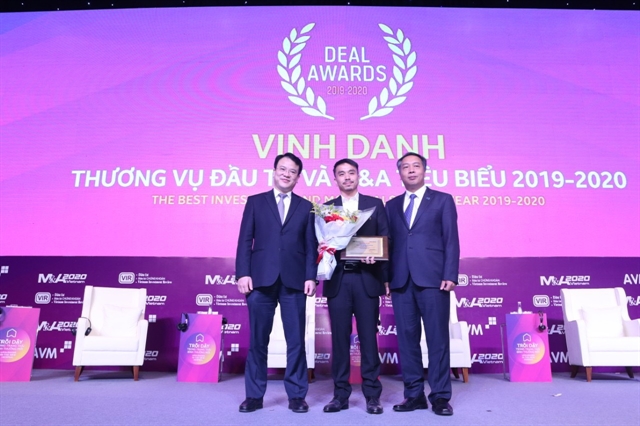 In 2019-20, overcoming the difficulties caused by the COVID-19 pandemic, Masan struck a number of M&A deals with domestic and foreign businesses.
Its CEO, Danny Le, said: "When acquiring stakes in other companies, whether at a strategic level or dominant stake, Masan does not focus on revenues or profits but how it could be a foundation to serve its overall strategy.
"The foundation here can be good technology, helping create the best product at a reasonable price for the consumer. The foundation can also be a distribution network that will help Masan further expand its already very good distribution system or build and maintain a strong Vietnamese brand."
On December 3, 2019, Masan Group and Vingroup agreed to merge VinCommerce, VinEco and Masan Consumer Holdings to create the retail and consumer goods leader in Việt Nam.
VinCommerce achieved revenues ofVNĐ23.678 trillion ($1.02 billion) in the first nine months to account for 42.5 per cent of Masan's total revenues of more than VNĐ55.6 trillion ($2.29 billion).
Its profitability turnaround game plan was validated by the earnings before interest, taxes, depreciation, and amortisation (EBITDA) margin improving from 5.1 per cent in the first quarter of this year to 2.8 per cent in the third quarter, andan operating momentum to achieve break-even EBITDA in the fourth quarter.
In February this year Masan HPC Company Limited, a wholly-owned subsidiary of Masan Consumer Corporation, successfully acquired a 52 per cent stake in Net Detergent JSC (NETCO), marking its entry into the home and personal care market, which is worth around $3.1 billion.
The acquisition also aligns with Masan's five-year strategy to broaden its product portfolio and deliver the best possible benefits to 100 million Vietnamese consumers.
After the acquisition, NETCO achieved outstanding growth in the first nine months of the year, with revenues and profits after tax rising by 38 per cent and 93 per cent year-on-year to VNĐ1.109 trillion ($47.7 million) and VNĐ104 billion ($4.47 million).
In the mining industry, Masan High-Tech Materials (MHT) completed the legal formalities to acquire the tungsten business of Germany's H.C. Starck Group GmbHin June 2020.
This acquisition is a strategic step in MHT's vision to become the world's leading manufacturer of high-tech industrial materials based on an integrated value chain platform.
In October MHT signed an agreement to establish a strategic alliance in the tungsten industry with Mitsubishi Materials Corporation with the objective of developing a leading high-tech tungsten materials platform.
The Japanese corporation acquired a 10 per cent stake in MHT for $90 million.
On October 3, at a ceremony held to inaugurate the MEATDeli Saigon Meat Processing Complex in Long An Province, Masan MEAT Life announced its entry into the poultry meat market by buying a 51 per cent stake in 3F VIET Joint Stock Company, a leading player in the industry, for VNĐ613 billion ($26.37 million).
At a panel discussion at the M&A Forum on Restructuring Strategy for Corporations Through M&A, Danny Le spoke about the success of Masan Group in optimising and achieving breakthrough growth through M&A.
He said 25 years ago Masan had been focusing on seasoning, but then saw potential in fast moving consumer goods and so decided to expand into the noodle and beverages segments.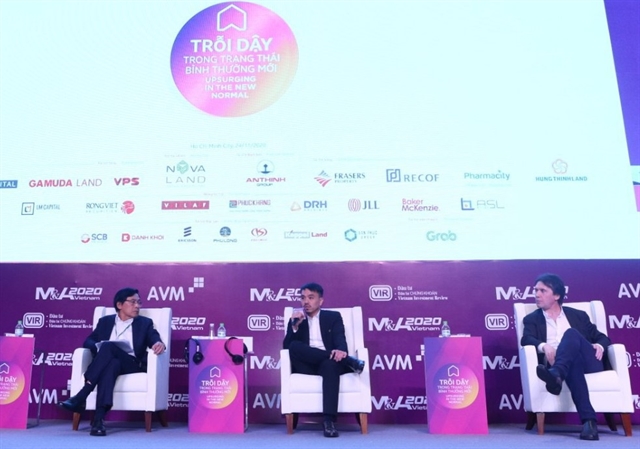 It also develops product lines horizontally with a variety of products based on studying the market, he said.
"Most recently we acquired NETCO. We look at market signals to buy potential brands."
Masan focuses on serving customers and end-users, he said.
"We implement our new strategy through M&A transactions. We understand consumer demand to carry out [strategies]using new technologies on a 4.0 platform." — VNS